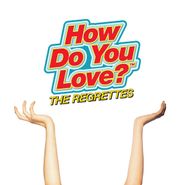 $15.98
Currently Unavailable
Artist:
The Regrettes
Genre:
Rock
Release Date:
08/09/2019
Label:
Warner Records
Catalog Number:
596099
Recording:
Studio
Length:
Format:
CD


NOW OPEN!
Visit our new Berkeley
Cannabis Dispensary
located next door!
How Do You Love? (CD)
The Regrettes
Currently Unavailable
$15.98
SHIPS FREE
in U.S.
Amoeba Review
08/04/2020
L.A. quartet The Regrettes effortlessly fuse pop-punk and garage rock on their effervescent sophomore album, How Do You Love? Fittingly, the album's a collection of love songs, with tracks dedicated to the easy, early days of romance, tracks with a harder, more desperate edge, and tracks in the empowered, "over it" stage. The songwriting is tight, the production polished with enough rock 'n' roll grit to imbue the band with sleek, cool swagger. If love is an addiction, this fun, flashy record will get all the right neurotransmitters firing.
Overall Rating
0 Submissions