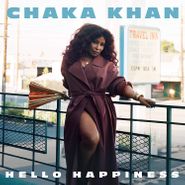 $12.98
Currently Unavailable
Artist:
Chaka Khan
Genre:
Soul
Release Date:
02/15/2019
Label:
Island/Def Jam
Catalog Number:
B0029647-02
Recording:
Studio
Length:
Format:
CD


NOW OPEN!
Visit our new Berkeley
Cannabis Dispensary
located next door!
Hello Happiness (CD)
Chaka Khan
Currently Unavailable
$12.98
SHIPS FREE
in U.S.
Amoeba Review
09/03/2020
Chaka Khan's Hello Happiness is the funk/soul legend's first record in twelve years -- and proof that Ms. Khan still belongs on top. Lead singles "Like Sugar" and the title track are lush and alive, featuring a contemporary feel with throwback soul flavor. Major Lazer producer Switch and singer-songwriter Sarah Ruba Taylor have donated their considerable talents to this irresistible effort that's sure to win over a whole new generation of fans for the inimitable Chaka Khan. Guaranteed to land on more than a few year-end "best of" lists, this is an album you'll spin again and again.
Overall Rating
0 Submissions