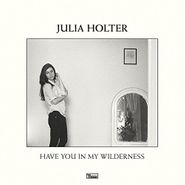 $24.98
Currently Unavailable
Artist:
Julia Holter
Genre:
Rock
Release Date:
09/25/2015
Label:
Domino
Catalog Number:
WIGLP341
Recording:
Studio
Sound:
Stereo
Length:
Format:
Vinyl LP


NOW OPEN!
Visit our new Berkeley
Cannabis Dispensary
located next door!
Have You In My Wilderness (LP)
Julia Holter
Currently Unavailable
$24.98
SHIPS FREE
in U.S.
Amoeba Review
Have You in My Wilderness gets away with being lighter on its feet than Julia Holter's previous work while still standing strong as another multifaceted work from the singer/composer. It may be Holter's most accessible album, but it doesn't pander, nor does it try to hide her bookish, sometimes esoteric leanings.
Overall Rating
0 Submissions