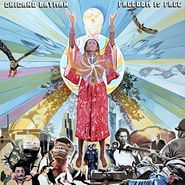 $26.98
Buy
Artist:
Chicano Batman
Genre:
World
Release Date:
03/03/2017
Label:
ATO Records
Catalog Number:
2281618
Recording:
Studio
Length:
Format:
Vinyl LP


NOW OPEN!
Visit our new Berkeley
Cannabis Dispensary
located next door!
Freedom Is Free (LP)
Chicano Batman
Buy
$26.98
SHIPS FREE
in U.S.
Amoeba Review
Daniel Tures, Hollywood 03/03/2017
This great East L.A. tropicalia-soul band really hit their stride on a compelling set of tunes that combine an inspiring message and indomitable groove. Like Curtis Mayfield or War, they show that gentle, creative soul can pack a powerful punch. Music for our time and place.
Overall Rating
0 Submissions