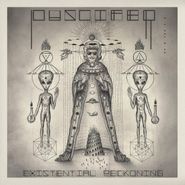 View all Photos

$32.98
Currently Unavailable
Artist:
Puscifer
Genre:
Rock
Release Date:
12/11/2020
Label:
BMG Rights Management
Catalog Number:
44067
Recording:
Studio
Length:
Format:
Vinyl LP
Note:
2LP Clear Vinyl
Limit One Per Customer
Existential Reckoning [Clear Vinyl] (LP)
Puscifer
Amoeba Review
Maynard James Keenan's supergroup Puscifer has released its first new studio album since 2015, Existential Reckoning. Returning members Carina Round and Mat Mitchell are joined this time by Failure's Greg Edwards as well as Gunnar Olsen and Sarah Jones on drums, for an experimental set with plenty of social commentary and nods to apocalyptic sci-fi. "Bread and Circus" sets the tone for the album with moody, mechanical beats and singsong vocals. "Grey Area" expands on this with a cold, industrial feel as well as "Theorem" with its robotic vocals, while "Apocalyptical" offers a bit more (sinister) melody and dynamics. "Bedlamite" is a highlight here with its darkly catchy guitar and more fluid vocals.
Overall Rating
0 Submissions