Damaged Bug – "The Mirror"
John Dwyer of Thee Oh Sees has another solo album due as Damaged Bug, his synthy alter ego. "The Mirror" creeps and buzzes around on an analog groove, getting under your skin like a mosquito without you realizing it. Cold Hot Plumbs is due June 1 on his label, Castle Face (following last year's Hubba Bubba). Hear it over at Pitchfork. And check out that sick album art!
tUnE-yArDs – "Wait for a Minute" video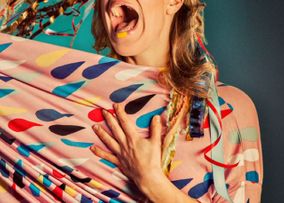 The Bay Area's Merrill Garbus is back with a new video from last year's great Nikki Nack album. Directed by SNEAL, there's a lot going on, as you might expect from hearing Garbus' dense synth-pop, layering images over one another in a kind of public access video meltdown. Watch below via Stereogum.