Record Store Day is happening April 18, with more than 500 exclusive and first-run releases coming out that day. Ahead of RSD, you can stream some of those releases now.
Johnny Marr – "I Feel You" (Depeche Mode cover)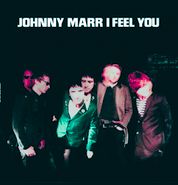 OK, breathe, '80s rock fans: Former Smiths guitarist Johnny Marr has covered Depeche Mode's bluesy 1993 single "I Feel You" for a limited-edition RSD 7". It's backed by (breathe again) a live cover of The Smiths' "Please, Please, Please Let Me Get What I Want." Stream it via Slicing Up Eyeballs.
Anton Newcombe and Tess Parks – "Cocaine Cat"