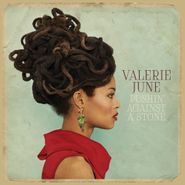 Amoeba Presents continues with three upcoming shows. The first is singer/songwriter Valerie June, who will bring her Appalachian folk-tinged rock to the Bootleg Bar Sept. 20. Valerie June's recently released Pushin' Against a Stone (available on CD or LP) was produced by The Black Keys' Dan Auerbach, who lends some rock oomph to her blues-folk sound.
Doors are at 8 p.m., and the show starts at 9 p.m. It's 21+, and tickets are $12-$15; they aren't yet on sale but will be available for purchase here.
She's also playing a live set at Amoeba Hollywood Sept. 19 at 6:30 p.m., so make sure to make it out for that free show. Listen to the rollicking "You Can't Be Told" below.