The youthful noise-pop of Car Seat Headrest and psych-garage of Night Beats lead a night of entertainment at First Fridays April 1 at the Natural History Museum in L.A.
Live music starts at 8 p.m. Tickets are $18 for non-members. Amoeba will be on hand with our booth and $20 gift certificates for $10; stop by and pick one up! (Limit two per customer.)
With Guided By Voices' disregard for fidelity and an uncommon wit, passion and tunefulness, Car Seat Headrest's Teens of Style was a highlight of last year, a compilation of early tracks recorded by Will Toledo in the backseat of his family's car in Virginia. His next album, Teens of Denial, is due this year. Hear "Something Soon" for an example.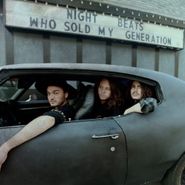 Night Beats' maximum R&B is informed by the likes of The Rolling Stones, James Brown and definitely The Who — the name of the Seattle band's latest album, Who Sold My Generation. But with attitude, soulful vocals and chops to spare, the band pulls off its retro sound exceedingly well. Check out "No Cops" for a taste.