I, like many others, engaged in the cliche practice of going to the gym the day after New Year's Day (which is reserved for hangovers) in order to "start the new year right" and "get on the right track." During this delusional first couple of weeks — or if you decide to actually stay with an active workout routine (good for you!) — you'll need some tunes to get you through the slow crawl back to fitness. Here are some of my favorite workout jamz, most of which you can download at Amoeba.com.
Technotronic – "Pump Up the Jam"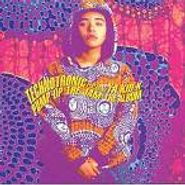 Despite its inclusion on questionable Jock Jams albums, this late '80s banger is a brilliant slab of early minimalist house pop.
The only Prodigy song I ever liked. Its misogynistic overtone is unfortunate, even with the "shocking" video they used to try to counter that (which I think made it worse), but its mid-'90s MTV "Amp"-era beats surprisingly hold up.