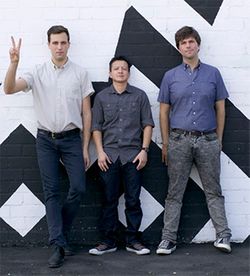 Los Angeles trio LA Font play a brand of nervy power-pop with melodies that wrap their wires around you before you know it. The band is playing Amoeba Hollywood April 23 at 6 p.m. in support of their new EP, Hangtime Vol. 1, out April 28 on Fleeting Youth Records. We'll also be giving out FREE split 7"'s with Roses (who play Amoeba Hollywood May 7) as part of Converse Rubber Tracks, a series of releases in which Converse gives up-and-coming bands studio time and releases the results as 7" records.
We took a minute to speak with singer/guitarist Danny Bobbe, who leads the band along with Harlow Rodriguez (drums) and Greg Katz (bass), before the band's performance.
Tell me a little bit about the LA Font story. How did you guys meet, where are you from and when did you start playing together?
Bobbe: Seven years ago, I hung fliers across town looking for a drummer. I hung one in Amoeba in the stairwell next to the other fliers. I was worried mine would get taken down or covered up so I stood up on the handrail and taped it to the ceiling. I came back three years later and it was still there. I felt very proud. It's since been removed.
What can you tell us about the Rubber Tracks recording you guys did?