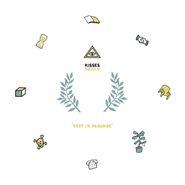 Kisses continue to make smart, chilled-out disco-pop on their third album, stripping back some of the atmospherics of previous releases and upping the grooves. Spareness reveals how lovely Jesse Kivel's voice and melodies are on a song like "Sun," as Kivel moves from singing over a solo beat into a falsetto over romantic synth touches. Freestyle and '80s synth R&B inform tracks like "Control" without them being mere homages. Most of Rest in Paradise sits comfortably as headphone-friendly electro pop, but a track like "A Groove" also gets your blood pumping with its high-hats, rubbery bassline and pure disco strings and guitars. Rest in Paradise is perhaps the L.A. duo's best and boldest album yet, building on their easy appeal while delivering the disco jammers in spades.
Protomartyr – The Agent Intellect
Protomartyr make no-bullshit indie rock. Guitars are as in-tune as when they pick them up. Joe Casey's vocals are declarative and fierce, eschewing melody in favor of direct emotion, spitting "I will make them feel the way I do" on surging opener "The Devil in His Youth." This isn't to say Protomartyr are sloppy. Everything on The Agent Intellect feels finely honed, drawing from bands like Husker Du, R.E.M. and Guided By Voices to distill bile-ridden diatribes into taut, nihilistic post-punk. Protomartyr's tunneling rhythms and mangled notes aren't particularly pretty, but The Agent Intellect feels true and cathartic. "Tell me how you really feel" might be one of the most annoying phrases in the English language. Protomartyr answer in kind.