Drag City Imprint God? Releases White Fence, Scraper Reissues
The new Drag City imprint God? is new but already pretty awesome. Their second and third releases will be a reissue of Cali's White Fence's self-titled debut LP and S.F.'s Scraper's debut 7". White Fence aka Tim Presley is rad. His latest release Cyclops Reap is out now and is a nice and trim entry point for the psych-pop singer/songwriter, even if it's a leftovers comp of sorts. For even more out-there bliss, check out all the rest of his albums, which ramble and sway in the wind in the best way possible. His first album is full of lo-fi delicious bon bons, 16 short songs that hide their hooks in reverb, and now you can have it July 16 from God? The same day, the label releases skate punks Scraper's first release, a six-song EP with lo-fi, talky, grimy psych-punk with song titles like "Liquid Lips." Yummy! Look for them both July 16.
Alela Diane Readies New LP 'About Farewell'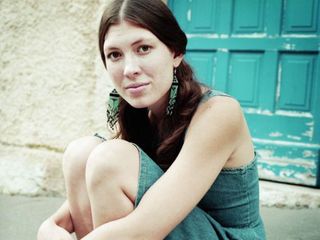 Sometimes you need a good folk record, like eating really healthy food. Alela Diane's About Farewell, out June 25 on her own label, Rusted Blue Records. I'm a sucker for the first song she's released from it, called "The Way We Fall." It's really two great songs in one, starting with a looping, soulful ballad, painted with intriguing swaths of flute, acoustic guitar and sumptuous harmonies. Then it shifts for a less-orchestrated portion that could have come off as precious if the previous part hadn't happened; in succession, it serves to peel back the layers and reveal Diane's lovely lilt, which is soon accompanied by those flutes again. Try not to get the shivers. Diane lives in Portland, but she hails from Nevada City, Calif., so we'll count her as one of us. Check out an interview Diane did with the Amoeblog a while back.