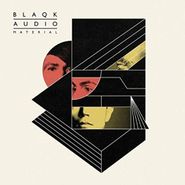 Blaqk Audio, the band featuring Davey Havok and Jade Puget of punk-rockers AFI, will appear at The Grammy Museum April 19 for its program "The Drop."
The electronic duo will perform at the Clive Davis Theater from their upcoming album Material, which is due April 15 (preorder here on LP or CD). They'll also appear for an intimate conversation.
Tickets are $20, and doors open at 7:30 p.m. Amoeba is proud to be a sponsor of this all-ages show.
The band's third release is inspired by the likes of Devo, Duran Duran, Erasure, Depeche Mode and Skinny Puppy. The band's mix of synth pop and industrial sounds can be hear on first single "Anointed"; watch the Tron-inspired video for the track below.