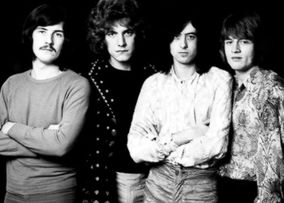 Led Zeppelin on Oct. 27 will release reissues of their biggest album—their fourth, self-titled album from 1971, regularly dubbed IV, as well as its follow-up, Houses of the Holy. Ahead of those releases, the band has made available an alternate version of Houses' "The Rain Song," which you can hear via Pitchfork.
As with their reissues of I, II and III, the deluxe versions of these reissues will come with a bonus disc of previously unreleased tracks. The albums have been remastered by Led Zep guitarist Jimmy Page, who had this to say in a press release:
"The Rain Song" is the sort of piece of music that Led Zeppelin could approach and do so successfully and so masterfully. This whole genre of the sensitivity, where it can sort of caress you, it's something that I've always been very proud of. The companion disc version is really a good blend of everything that's actually being played.
The reissues will each come in CD, deluxe edition CD, vinyl, deluxe edition vinyl, digital download and vinyl versions, as well as a box set that includes both the CD and LP deluxe versions as well as a coffee table book with the cover art and other Led Zep goodies. Preorder below: