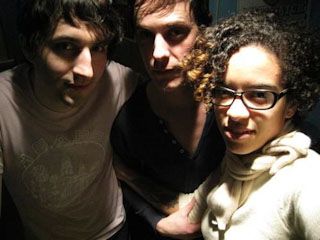 The Thermals
The next Red Bull Sound Select show will be headlined by the post-pop-punk trio The Thermals on June 26 at L.A.'s Roxy Theater. This one's curated by our friends at FILTER Magazine.
Tickets are $3 with RSVP. The show is 18+. Get to the show early if you want to get in—it's first come, first served.
Portland's The Thermals have been at it since 2002, churning out socially and politically charged songs with ferocious, catchy power-pop riffs. Their latest is last year's Desperate Ground.
The show will also feature L.A.-based openers Gothic Tropic and Beach Party and is hosted by Tapioca and The Flea. Gothic Tropic's jungle-pop bounces on tribal beats and Cecilia Della Peruti's animalistic vocals. Beach Party's garage rock is heavy on hooks and attitude on their recent EP! Tapioca and the Flea blend modern psychedelia and electro-pop on songs like "Take It Slow."