The line wrapped around the block to see Local Natives play one of the biggest Amoeba in-stores in recent memory.
The L.A.-based band appeared Jan. 29 in support of their sophomore album, the epic Hummingbird, released the same day. Despite having released only one previous album, Gorilla Manor, in 2009, it was clear by the shouts of screaming girls and dudes alike that the band's cult has grown sizably over the years.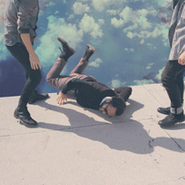 The band opened with "You & I," the majestic opening track of Hummingbird, with singer Kelcey Ayer booming his throaty voice through the store in the song's opening lines and the band engaging in solid harmonies. "Breakers" sounded intense live, inspiring a clap-along.
From the get-go, it didn't sound as though the band needed time to find their footing or were still trying to work out kinks in new songs; they sounded well-rehearsed and ready to go. They paused to sweetly give a shoutout to their hometown, offering gratitude and reflecting on the times they were on the other side of the stage.
In an offering to their fans, they launched into "Wide Eyes" from Gorilla Manor, a song they're probably sick-to-death of playing, to huge response — a kind move in a show meant to promote their new album. They moved back to Hummingbird for standout "Heavy Feet," which features some of the liveliest drumming and singing on the album, doubling that strength live in the show's best moment.