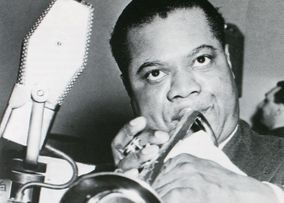 Amoeba Music has painstakingly remastered thousands of tracks from jazz genius Louis Armstrong's vast catalog, and you can now download them all at Amoeba.com's Vinyl Vaults!
Here is Louis as you've never heard him. More than 600 sides have been expertly remastered from pristine original 78s that sound amazing—plus thousands of hard-to-find and undiscovered songs remastered from out-of-print and obscure vinyl sources not found elsewhere digitally!
Check out our beautifully restored rare Louis versions of "Ain't Misbehavin'," "Just A Gigolo" and many others. We have also remastered dozens of live shows, including the previously legendary, previously unheard "Live at Kitsilano High School" show from Vancouver in 1952—plus hundreds of lost radio and TV performances for your listening pleasure.
Here's an example of the remastering we've done for these Louis Armstrong tracks on the song "Static Strut" from the original Vocalion 78 released in 1926. Hear the song change from the original to the Amoeba-remastered version at the 20-second mark.
Watch this performance below of Louis Armstrong live in Copenhagen in 1934 for another example of our remastering. Audio restoration begins at the 51-second mark. Songs include "I Cover the Waterfront" and "Dinah."