Amoeba is always a great place to find a gift for that person who's hard to shop for, whether they're a film buff, music nerd, toy collector or book fan. But if you're feeling creative, you can make your own gift set from stuff we sell at Amoeba. Allow us to give you a few ideas on how to make your gift from Amoeba extra special.
Star Wars Gift Set
Right now, we've got a Star Wars pop-up shop happening at Amoeba Hollywood, where we've collected all the T-shirts, toys, posters, movies and more that we sell, in celebration of the upcoming release of The Force Awakens. Snag a T-shirt, Funko figuring of Boba Fett and Force Awakens soundtrack (out Dec. 18) for a killer gift pack.
Cat LPs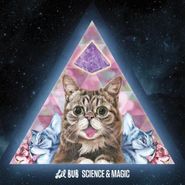 Not one, but two recently released LPs are designed for the cat lover. First, there's Lil Bub's Science & Magic: A Soundtrack to the Universe, a trippy set of cosmic synth adventures inspired by Instagram cat celebrity Lil Bub. And for that elusive hip hop fan who's also into felines, there's Meow the Jewels, a version of Run the Jewels' critically acclaimed Run the Jewels 2 album made entirely from cat noises. They're both perfect for any hipster cat fan with a healthy sense of irony.