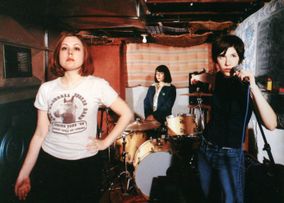 The late, great Sleater-Kinney will get the remaster and re-release treatment Oct. 21 when Sub Pop releases all seven of the band's albums on vinyl in the Start Together box set.
The set will include the band's self-titled debut (1995), Call the Doctor (1996), Dig Me Out (1997), The Hot Rock (1999), All Hands on the Bad One (2000), One Beat (2002) and The Woods (2005). All seven albums also will be remastered and re-released separately on LP and CD the same day, according to Pitchfork. The remaster work was done by Sterling Sound's Greg Calbi from the original analog tapes.
It's a great chance to revisit one of the best and most consistent bands of the past two decades, particularly when all-female or female-fronted bands don't tend to get venerated through history in the same way that male bands do. That's especially sad when you consider Sleater-Kinney were better overall than just about every other band out there and that they never got bad—actually, they went out on their highest note, the Dave Fridmann-produced The Woods, which is a classic. Here's hoping for a reunion too—never got to see this band live!
Hear The Woods' "Entertain" below, sung by guitarist (and now Wild Flag member and Portlandia co-star/co-creator) Carrie Brownstein: