Two of our favorite bands of all time — OutKast and Slowdive — are officially reuniting. OutKast announced it a couple weeks back, with news that the Southern rap legends will headline Coachella and play Governernor's Ball in New York, though it seems likely we'll see another Big Boi album before a new OutKast album (and we're OK with that!). Meanwhile, shoegaze titans Slowdive yesterday confirmed rumors (that they themselves flamed) that they'd reunite, playing Primavera in Barcelona in May and "a couple of gigs," including a show at Village Underground in London May 19 (better book your tickets now!), in order to raise funds for a new LP.
With those two reunions locked down, we thought we'd turn our attention from bands we liked that reunited to bands we'd like to see reunite.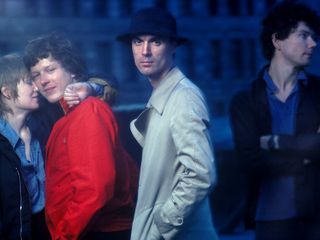 This one seems a no-brainer. They exactly been quiet since they first broke up in 1991, from briefly "reuniting" onstage in 2002 to play three songs for their Rock and Roll Hall of Fame induction, to David Byrne's solo career (including a one-off album with St. Vincent), to the other members' activity, including The Heads and Tom Tom Club. And the band seems more popular and prescient than ever. So, everyone's still alive and working.