FIDLAR's long-awaited debut album is a Pabst-soaked party record with strong songwriting anchoring its punk attitude. Pulling from hardcore, surf rock and pop-punk, and with the immediacy of The Clash's first record, the foursome, made up of singer/guitarist Zac Carper, Brandon Schwartzel (bass), and brothers Elvis Kuehn (guitar) and Max Kuehn (drums), sing about being young and dumb and getting fucked up. But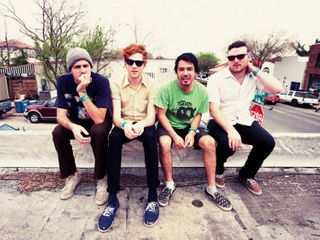 all the funny lyrics in the world wouldn't mean a thing if the songs themselves didn't captivate you, and they do, across FIDLAR's 14 tracks. There's nary a hint of cynical sneer, and though they play with sloppy punk abandon, their hooks are tight as a six-pack ring. FIDLAR sing about who they are and what they do, whether that's waking, baking, skating in mechanical hedonism or reflecting that said young hedonism can "kind of suck."
The band has been selling its debut record at shows for some time now, but it's officially out in stores Jan. 22. FIDLAR is playing Amoeba SF Jan. 18 at 6 p.m. and Amoeba Hollywood Jan. 24 at 6 p.m. They're also playing a release show at LA Fort Jan. 22 with Pangea, Meat Market and Spaceships. I caught up with Carper as the band was set to play SF. WARNING: This will be a bit NSFW (Not Suitable for Wussies). There's poop involved.
PST: Fidlar has some of the best song titles in recent memory (such as "Cheap Beer," "Stoked and Broke"). Do those usually come first before the lyrics and sort of guide them, or do you guys kind of joke and throw stuff around to see what sticks once the songs are written?
Carper: It kinda matters. Sometimes the title will just pop out and we'll think of a chorus with the lyrics and base it around that. Sometimes we'll jam it out and think of a topic to sing about. I remember with cheap beer, I said "I dunno, I just wanna write a song that says I drink cheap beer so what fuck you," and someone said "why don't we just yell that?" Sometimes we'll just hear someone talking and say something funny and we'll use that. It's all a collaborative process and super fuckin' fun.