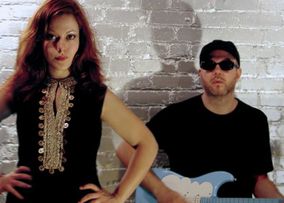 His Name Is Alive, the experimental music project by Warren Defever that had a remarkable run of records during the glory days of 4AD, have a new one coming out Oct. 28 called Tecuciztecatl, due from Light in the Attic.
As Pitchfork points out, the press release calls it a "psychedelic rock opera." However, the lovely "African Violet Casts a Spell" suggests an Afropop vibe, so we'll see:
While making the album, Defever and guitarist Dusty Jones made a study guide of sorts of every Thin Lizzy guitar solo recorded between 1971 and 1983. So we're hoping for harmonic guitar glissandos aplenty on this one. Hear the whole hour-plus mind-melting Lizzathon below:
More details about the rock opera element are here:
The rock opera is imagined vaguely in the shape of a 1969 Hammer horror film: bloody, British, gothic, and brimming with beguiling and attractive vampires. The songs are written from the perspective of five characters: the mother, the doctor, the twins and the librarian whose side hustle is demon hunting. The story begins with a young woman getting an ultrasound who discovers she's pregnant with twins. Realizing something is going terribly wrong, "I think I'm missing something on the inside," she visits a local library for research. The librarian instructs the woman on how to kill the demon baby without harming the other twin, and together they carry out the various rituals necessary. Eventually one baby is born.