The year's coming to a close, and it's time to look ahead. There are already several sure-to-be great albums on the horizon. You can already preorder the ones below.
Panda Bear – Panda Bear Meets the Grim Reaper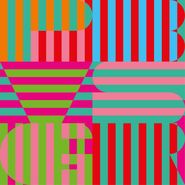 Out Jan. 13
Available on LP, CD, Deluxe LP, Deluxe CD
Experimental pop auteur and Animal Collective member Panda Bear aka Noah Lennox is back with his fifth solo album and first in four years. Like his last album, Tomboy, it's co-produced by Peter Kember, and it features two songs that have already been premiered, the woozy "Mr Noah" and mind-bending "Boys Latin," for which you can watch the mesmerizing video below. "Mr Noah" has been already released on a four-song EP of the same name, which includes three more songs; those three extra songs will also be available on the deluxe editions of the album.