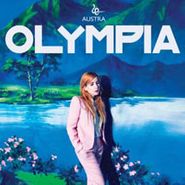 This week's Weekly Wedensday Steal is Austra's Olympia, regularly $22.98 and on sale for $10 on vinyl.
The synth-pop trio's second album is a favorite here at Amoeba. Amoebite Andrew says: "Olympia departs from the darkwave feel of its previous release, Feel It Break, and ventures into more dance and house sounds, while still maintaining the mystical feel from all of Austra's songs."
A bit about our Weekly Steal: A new item is featured on Amoeba.com every Wednesday for $10, while supplies last. It's limited to one per customer, and the deal is only available on the website. As always, there's free shipping on all music and movies you buy on Amoeba.com throughout the United States.
Watch the video for "Forgive Me" below: