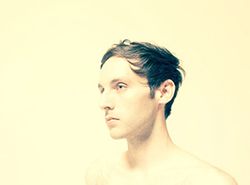 After a few years of hype in the L.A. music scene, indie-pop band James Supercave are finally ready to drop their debut album, Better Strange. After breaking through onto local radio with the song "Burn" in 2014, the band (yes, it's a band, not a guy), which consists of frontman Joaquin Pastor, keyboardist Patrick Logothetti and guitarist Andres Villalobos, set about recording their debut. But perfection, particularly that of Pastor, meant that it took a couple of years, as the band told Noisey.
Now that it's finally here, Better Strange proves to be worth the wait. Songs like the title track roll along taut disco grooves and dreamy synth tones. Pastor's highwire vocals can go from delicate to glammy in a heartbeat, calling to mind Marc Bolan and Jeff Buckley as his voice bounds through the hairpin turns of pounding indie-rocker "The Right Thing." The band seemingly uses influences like LCD Soundsystem, Radiohead, The Shins and Brian Eno as a grab bag without taking too much from one place — at times the record is evocative, but it never lingers in one place. It's more focused on hooks than homage, and while the album is plenty catchy, its attention to detail is also immediately apparent and rewards on repeated listens.
The band is set to play Amoeba Hollywood Feb. 10 at 7 p.m. and Amoeba San Francisco Feb. 23 at 6 p.m. And check them out at Resident in Downtown L.A. Feb. 11. I sat down for a minute to speak with Pastor before his L.A. shows.
I've noticed the sound has become fuller and more varied on this album. What brought about those changes? Just more confidence?
Pastor: It has a lot to do with being in love with production. We've been recording for years and have figured out how to take our sound out of the bedroom. There's a taste for maximalism with this crew — the live show is the place where that really goes full monty.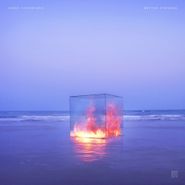 I've been hearing the name James Supercave in the L.A. music scene for years now, but the debut album is just coming now. Was it a perfectionism thing? Or was it more of a matter of finding the right label and timing?
Pastor: We wanted to put out good work. For us, it didn't matter too much how long that took. We just wanted to be satisfied with what we release. Label pressure was actually helpful in our case. To be honest, I'm not sure anything would come out without external pressure.
I'm assuming a lot of people think James Supercave is your name or stage name. Did you ever consider changing the name to avoid that confusion? Do you ever just go with it?
Pastor: Nah. I love overhearing people refer to James Supercave, the person. I like imagining who he could become.
You're able to really walk that fine line between writing catchy pop songs but not just going for the easiest thing. The songs are really detailed and complex at the same time. How do you find that balance?
Pastor: Thanks! It's just gotta feel emotionally in tune with me for it to fly. I like very popular music. I like weird shit too. You listen for you. Or at least I do.
I was happy with how dynamic the record is. There are these catchy songs, but a lot of the songs have kind of a downer, jazzier feel near the end. More of the kind of Radiohead, prog-pop influence. Was putting the album together more about getting the right feel overall or finding the best songs possible to put out?
Pastor: Good question. It's not a concept record; it's a first record. We went with the best songs that fit together well. There's some tunes I wish had made it, but they'll find a home someday.
At the same time, I know the live show is important to you guys, and you've played with some great bands as you've been coming up. What is it like to play with Future Islands, for instance?
Pastor: We only played one show with Future Islands in Marfa, Texas ... a magical spot. Sam is a complete boss. The theatricality is wild and he gives no fucks. It's inspiring.
What has been the most surreal moment about being in an up-and-coming band that people everywhere are starting to notice?
Pastor: Hmm … the most surreal thing happening right now is friends lending their time and talent to help this thing. We think we're doing something good, but it's a real trip to collaborate with people and feel that they're pushing themselves harder because they dig the shit.
Can you give me a list of five of your favorite records?
Crystal Castles - Crystal Castles
Gil Scott-Heron - Pieces of a Man