Photo by Maria Mochnacz
PJ Harvey is set to release her new album, The Hope Six Demolition Project, April 15 via Vagrant. You can preorder it now on LP and CD.
The album was recorded in sessions that were open to the public at the museum Somerset House in London, as Pitchfork has reported. Exhibit attendees could see Harvey creating the album with producers Flood and John Parish through a one-way mirror. They also yielded this amazing photo of Harvey playing the saxophone!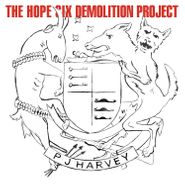 I have to admit to being a bit skeptical of the process. Having been a fan for years, I have always loved how meticulously created and recorded her albums are, not least of which was her last album 2011's Let England Shake, one of the strongest of her career. This approach seemed interesting but bound to distract, no?
Actually, "no" is right. From the sounds of first single "The Wheel," she's continuing on in the tradition of her last album, producing songs that sound lush and layered, yet loose and freewheeling, with a strong social commentary running through. It's interesting that she wrote these 10 songs in a public exhibit and traveled to Kosovo, Afghanistan and Washington, D.C. while writing this album (seemingly for inspiration, as photographer/filmmaker Seamus Murphy's footage below would suggest). But ultimately the final product is what matters most to fans, and it sounds like she's delivered yet again.
Watch the album trailer, which includes clips of "The Wheel" and "The Community of Hope," below.