Garage rocker Hanni El Khatib plays the last First Fridays at the Natural History Museum on June 5. Tickets are $20 without a membership to the museum. We'll be on hand with our booth and prize wheel, so make sure to come by and say hello.
L.A.-based El Khatib released his latest album, Moonlight, this year, displaying a darker, more atmospheric take on his blues-fueled rock 'n' roll than on his Dan Auerbach-produced, pop-friendly second album, Head in the Dirt, and raw debut, Will the Guns Come Out. Check out an interview we did El Khatib a while back here, and watch his episode of "What's In My Bag?" below: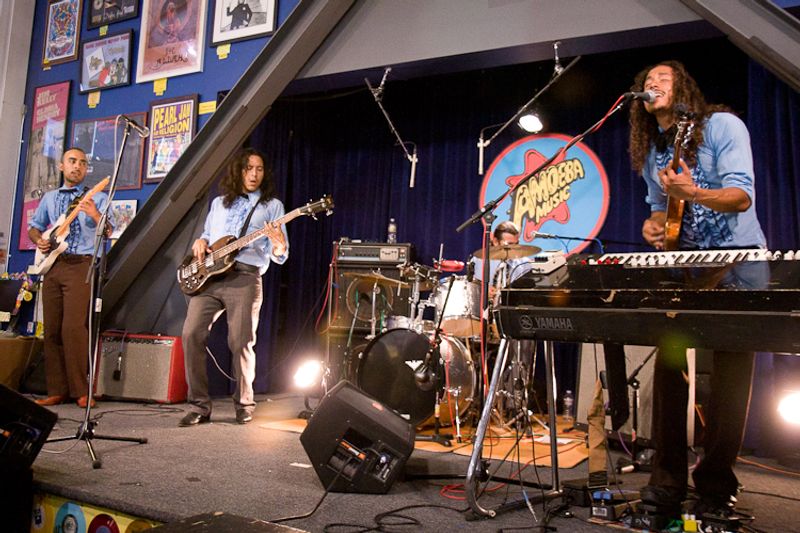 Chicano Batman Live at Amoeba Hollywood
Live music starts at 7:30 p.m. with a performance by Avid Dancer, who moves between sweet indie pop songs and '80s-inspired tunes on his debut album, First Bath. It's followed by a set at 8:45 p.m. by Chicano Batman (who played at Amoeba Hollywood back in 2012), the L.A.-based Latin psych-rock band who incorporates elements of cumbia, samba and soul into their sound, concluding with Hanni El Khatib at 10 p.m.
Check out some videos by those artists below:
The event starts at 5 p.m. with the museum tour "Finding L.A.'s Hidden Wildlife One Photo at a Time" with Richard Smart of the NHM Citizen Science Program, as well as the discussion "The Magic of Math" with "mathemagician" Arthur Benjamin at 6 p.m. And KCRW DJ Raul Campos will be spinning tunes alongside hip-hop DJ Captain Planet starting at 5 p.m. This is the last First Fridays show of the season, so don't miss it!