Amoeba has curated the next Red Bull Sound Select show in L.A., featuring electro-poppers Milo Greene.
The show, which is 21+, takes place Wednesday, April 29 at The Echo. RSVP for a $3 entry. (RSVP does not guarantee entry; plan to arrive early.) It's $12 without an RSVP at the door.
Milo Greene features the work of four very talented people. On their latest album, Control, Marlana Sheetz takes the lead for the cool Hollywood dance-pop of "White Lies," sitting nicely alongside likeminded artists such as HAIM and Jessie Ware, while the male-fronted songs from her three bandmates are no less beguiling, as "On the Fence" draws influence from the likes of A-ha for a smart and instantly pleasurable new wave-jam.
They're joined at this show by L.A.-based Avid Dancer, the indie pop-rock project helmed by Jacob Summers. Summers grew up an outsider to popular music in a devoutly Christian household. After serving in the Marines for four years, Summers has since come into his own as a musician, touring with the likes of Hamilton Leithauser, Cold War Kids and Warpaint. Hear the soulful "Stop Playing With My Heart" below: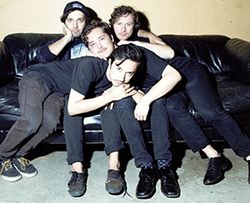 Also opening the show are L.A.'s So Many Wizards. Fronted by Nima Kazerouni, the band incorporates elements of surf rock and new wave into its brightly hued indie pop sound. Read my interview with Kazerouni here, and check out their song "Night Chills" below:
The show is hosted by L.A. quartet Breakfast, and it's 21+. The Echo is located at 1822 Sunset Boulevard in Echo Park.