L.A.'s Tennis System play a brand of psychedelic, dreamy rock 'n' roll that should please any fan of the shoegaze movement, yet they've got their own thing going, as new album Technicolor Blind trades between rocketing guitar noise and shimmering ambience.
Led by Matty Taylor, along with drummer Hector Gomez and bassist Zach Bilson, the trio has shared the stage with such like-minded acts as Ty Segall, Wavves, Japandroids and The Pains of Being Pure at Heart. Taylor started the band in Washington, D.C. in 2009 and released the 2011 noise-rock album Teenagers before heading to L.A. and changing up the band's lineup and sound a bit.
Now they've found their niche within the Part Time Punks crowd and have been wowing audiences with their volume-heavy shows and excellent second album, released last year. They're one of the latest bands to record a track as part of Converse Rubber Tracks, which gives up-and-coming bands studio time and exposure. Tennis System performs live at Amoeba Hollywood today at 6 p.m.
We took a minute to catch up with Taylor before the show.
You've been named an L.A. band to watch by LA Weekly, Laist and others. How does that feel? Do you guys like being watched?
You know, it feels really good. I've been in LA for four years working hard as shit, in all 4, and it has not been easy. It's nice to know someone is actually taking notice to that. It makes LA feel more like home.
I see it like this; you buy a record to hear songs. You go to a show to see a performance. It really bothers me when I go to see a band live and they look like they don't want to be there. So, yes, I like to be watched. I want to be watched. I want to give every person in the room, be it 1 or 100, a killer fucking show.
What precipitated the move from Washington, D.C. to L.A.? Did that correspond to a shift in focus or sound?
I left D.C. because I needed to leave the nest. I needed to grow. I've always lived there and needed to try something else. It was a toss up between New York and L.A. and the thought of another winter helped persuade my decision.
Yes, it did correspond with a shift in focus. In that, I wanted to take this more seriously. Be more professional. Focus more on writing more music and playing more shows.
Does it at all bother you to be lumped in with the shoegaze sound and compared with bands like Ride and My Bloody Valentine?
Yes. I truly hate the term shoegaze. I think it's a lazy. When people call us "shoegaze" I know they have never seen us live and never listened to our records. We aren't shoegaze. We're loud. We're heavy. I grew up listening to bands like Polvo, Dinosaur Jr. and Fugazi it's latent in our sound also.
While, it is an honor to even be considered comparable to Ride and My Bloody Valentine, we just aren't those bands. There are too many bands these days that sound like they heard Loveless and decided they wanted to be a "shoegaze" band … too many bands just trying to do something that has already been done.
I love that record, I love that band, but I write my own songs. I try to steer as far from that sound as possible. To be entirely honest, I get my inspiration from hip-hop, go-go and rap. That's the shit that gets me hype and makes me want to write songs.
L.A. has its share of garage rock and electro-pop bands, have you found it to be a place that is welcoming to a band with a sound like yours? Was it a struggle to break through at first?
LA is tough. I came from the east coast and knew no one here. This city is really a "who you know" kind of place. I've been hustling since I moved here to find our niche in the scene. It took about a year really get into playing shows. Michael Stock (Part Time Punks) took us under his wing and has really helped us in finding our place here.
There seems to be more of a focus on texture on Technicolor Blind vs. your first album, but there are still plenty of balls-out moments. Do you see yourselves moving more toward that dream-pop territory down the line, or do you like keeping it heavier?
Haha, thanks for noticing. Technicolour Blind is kind of my response to The Cure's Wish. When we went in to make it, that was my focus as far as production.
Our newer stuff is definitely becoming heavier but it still has hints of dream-pop. I don't want to give too much away, so I'll leave it at that.
Your shows have been known to be earsplitting in the past, is it difficult to manage the balance between noise and vocals/melody in a live setting while still maintaining that sort of punch? Is that harder to achieve live or on record?
It is. Before we used to just be unbearably loud. It was cool for a second, but one by one I'd see a full room dwindle down to two or three people. So I started working on making it a good balance between the two. Loud but with moderation, so you could actually get something out of seeing us, other then tinnitus. We did shows where we listened to the sound guy and turned way down and the energy just wasn't there. I need to feel that distortion rumbling in my body. I feed off of that shit.
It is harder to achieve live. Sound guys always say, "Turn it down!" I get so frustrated because if they just work with us, we can find a common ground. It's gotten to the point where I bring my own reverb pedal for to prevent monitor feedback.
What can you tell us about the song you recorded for Rubber Tracks and your experience recording there?
"Here We Go" is about dating after the end of a long relationship. You find yourself making poor choices, saying the wrong things, and constantly comparing this new person with the person you were with. You realize that you never stopped loving that person, even after they left you.
We had been working on this song for most of the spring into summer and were super excited to get in there and track it. We used the entire time and came up with a really great recording.
So we've established you're a band to watch this year. What do you guys have planned for 2015?
Yeah, I'm still trying to wrap my head around it. Our plans for the year are to tour, write and record. We've got almost an entire record ready to go. We're really hoping to get into SXSW this year and do that circuit and hopefully be more involved with shows in LA and around California. We've always wanted to be a part of the local scene and for the first time it feels like we are.
Can you give us a list of five of your favorite records?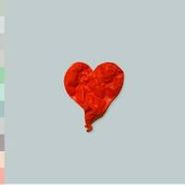 The Lilys - Eccsame the Photon Band
Kanye West - 808s & Heartbreak