Panda Bear – Panda Bear Meets the Grim Reaper
Panda Bear Meets the Grim Reaper has us in heaven. It's Noah Lennox's most accessible album thus far, yet it's as strange and unique as anything he's done. I first heard "Boys Latin" on edibles in Joshua Tree at his excellent show at Pappy & Harriet's with Peaking Lights, and that rainbow vocal pastiche has been swimming through my brain ever since. The other single, "Mr Noah," is more of a grower, but I love the way its groans into life and pulsates like a live animal. You've got songs like "Principe Real," which is like this Wonderland funk track, bouncing on handclaps and cartoonish organs. A lot of the in-between songs are as beautiful as you might guess. "Crossword" is heartfelt and gorgeous, along the lines of a certain song he wrote for Animal Collective, "My Girls." "Come to Your Senses" swirls with slithering, shaking sounds, but percolating guitars and synths carry strong melodies to take you through it. And "Tropic of Cancer" is a Beach Boys-inspired oceanic ode that crests on beautiful harp and digital whispers. Panda Bear's work has always been inspiring, but Grim Reaper sees Lennox shedding any kind of shyness present in his previous releases. It's a beautifully made, all-embracing piece of experimental pop music, and one of the best releases of early 2015.
If you haven't seen the video for "Boys Latin" yet, do yourself a favor and sit down to watch it.
California X – Nights in the Dark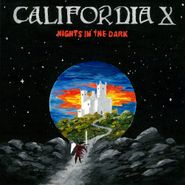 Amherst, Pa. punks California X are fueled equally by hooks and energy, dropping aggro pretense in favor of melodies that stick. Nights in the Dark is heavy, with chunky riffs played at metal-worthy volumes, but at their core, songs like "Hadley, MA" are pure power-pop heaven, calling to mind vintage Weezer and Sunny Day Real Estate, were they played by a guy who's named aptly named Lemmy and his friends, who play like Motorhead with soft hearts. We're all over this.
See all of this week's new releases