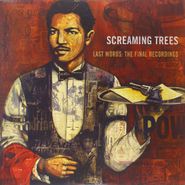 This week's Weekly Wedensday Steal is Screaming Trees' final LP Last Words: The Final Recordings, regularly $19.98 and on sale for $10 on vinyl.
Fronted by gruff-vocaled Mark Lanegan, Washington's Screaming Trees were among the forefront of the grunge movement, scoring the alternative rock hit "Nearly Lost You." Last Words consists of recordings the band did in 1998 and 1999 right before the band broke up. The album wasn't offically released until 2011 and now constitutes the last Screaming Trees album. Meanwhile, Lanegan has had a successful post-Trees career as a solo artist, recently releasing the fine Phantom Radio LP, and as a collaborator with the likes of Queens of the Stone Age.
A bit about our Weekly Steal: A new item is featured on Amoeba.com every Wednesday for $10, while supplies last. It's limited to one per customer, and the deal is only available on the website. As always, there's free shipping on all music and movies you buy on Amoeba.com throughout the United States.
Hear the album's "Last Words"below: