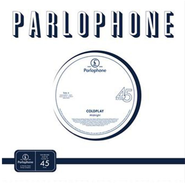 This week's Weekly Wedensday Steal is Coldplay' Midnight 7", regularly $10.98 and on sale for $5 on vinyl.
"Midnight" is the second single from Coldplay's recently released Ghost Stories album. The electro-pop track, which calls to mind Phil Collins' "In the Air Tonight" by way of Bon Iver, has a heat-saturated psychedelic video clip, which you can watch below.
A bit about our Weekly Steal: A new item is featured on Amoeba.com every Wednesday for $10, while supplies last. It's limited to one per customer, and the deal is only available on the website. As always, there's free shipping on all music and movies you buy on Amoeba.com throughout the United States.
Watch the video for "Midnight":