The GRAMMY Museum presents The Drop: OK Go on Oct. 29 at 8 p.m. Amoeba is proud to be a sponsort of the show.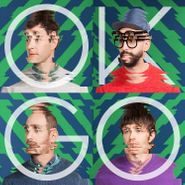 OK Go will celebrate the release of their latest album, Hungry Ghosts, with an interview and performance at The Clive Davis Theater. Tickets are $15, and you can buy them here.
The Chicago-bred band, now Angelenos, first came to prominence with their single "Get Over It" and the band's accompanying, self-titled album in 2002. After that, the power-pop band distinguished itself with its funny, convoluted and massively populated music videos, like the treadmill moves of "Here it Goes Again" (from Oh No) and the Rube Goldberg machine of "This Too Shall Pass" (from Of the Blue Colour of the Sky). Their latest record, Hungry Ghosts, is out now, with production work by Dave Fridmann (Flaming Lips, Weezer, MGMT) and Tony Hoffer (Beck, Phoenix, Foster the People).
Check out the video to Hungry Ghosts' new wavey "The Writing's On the Wall," featuring the band engaging in various methods of visual trickery: