Amoeba is proud to sponsor The Drop: Daniel Lanois on Oct. 23 at The GRAMMY MUSEUM. Lanois will appear for a discussion, moderated by GRAMMY Museum executive director Bob Santelli, and will also take questions from the audience, followed by a performance.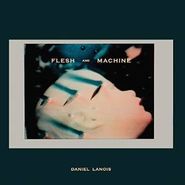 The show starts at 8 p.m. and takes place at the museum's Clive Davis Theater. Tickets are $25, and you can pick them up here.
Daniel Lanois is a renkown musician, producer and ambient artist. He has produced records by such artists as Bob Dylan, Neil Young and Peter Gabriel while also releasing his own solo albums and film scores. Three of the albums he has produced or co-produced have gone on to win Grammys for Best Album of the Year, including U2's The Joshua Tree.
Lanois' eighth solo album is called Flesh and Machine, and it's out Oct. 28 on ANTI-. You can preorder it now on CD or LP. Watch a run-through of the song "Opera" below: