Roses – "It's Over"
Photo by Olivia Hemaratanatorn
Ex-Abe Vigoda guitarist Juan Velasquez has a new project, the dream-pop trio known as Roses, and they've got a four-song EP coming out Aug. 5 on Group Tightener called Dreamlover. The first song we've heard from it, "It's Over," is a stuttering, stunning new waver with David Byrne-esque vocals, dreamy synth washes and crashing shoegaze guitars. They'll be at S.F.'s Hemlock Tavern July 15 and L.A.'s Bootleg Theater July 16 with A Sunny Day in Glasgow.
Craft Spells – "Nausea" video
Why are animated music videos the best? The frenetic black-and-white animation and Rorschach-style ink blotches of the nicely fit the woozy feel of the title track to Justin Vallesteros' latest album as Craft Spells, which is out now on Captured Tracks. They'll be at S.F.'s The Chapel July 17 and L.A.'s Echo July 20.
Whirr – "Mumble"
Whirr have always pushed the edges of shoegaze, writing epic, post-rockesque songs on last year's Around. Their next release, Sway, sees the band becoming bicoastal (with Nick Bassett living in Philadelphia and doing triple-time with Nothing and Death of Lovers and the rest of the band in Oakland) and thus becoming more democratic, with songs coming from three songwriters. That hasn't seemed to make things fracturous, though; on the contrary, "Mumble" is taut and tight at two-and-a-half minutes, with heavy metallic guitarwork, pounding drums and some more clear-cut vocals than they've had in the past. Sway is out Sept. 23 on Graveface. They'll be at S.F.'s Rickshaw Stop Aug. 30 and L.A.'s Echo Sept. 2.
Shows This Weekend: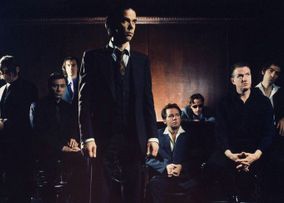 Friday: Nick Cave & the Bad Seeds and Warpaint at The Shrine ($28.55+, 7 p.m.)
Saturday: Insidelands with Together Pangea, Thee Rain Cats, The Garden and more at Los Globos ($15, 4 p.m.)
Sunday: The Antlers at the Troubador ($20, 8 p.m.)