Photo: Aida Daneshvar Photography
The new album by byrdsol (aka Burgess Tomlinson) takes the artist's electronic sound and infuses with a healthy dose of folk heart, giving pierreponte an intriguing duality. On one hand, the music is put together by digital means, beats are introduced halfway through songs and acoustic strums are cut up and mended, yet Tomlinson's breathy croon and bedroom composition style keeps the music grounded and connected.
The album is currently available as a download exclusively on Amoeba.com, while Tomlinson has started an indiegogo campaign for a physical release. I took a minute to catch up with Tomlinson, who currently works at Amoeba Hollywood, about his latest release.
How long have you been making music?
Most of my life. I guess I got serious in 9th grade. The music director at my high school put the budget to good use. He built a complete midi studio with an Ensoniq sampling, sequencing, keyboard workstation, and a few now vintage drum machines. You were allowed to sign up for time blocks on your breaks or lunch, as long as you were involved in at least one music class, which I was for four years. I was also taking piano lessons at home and playing a few Casio-type keyboards my dad got me way into the nights. In 10th grade my friends and I started a band called Swirl, in a music-friendly basement. We recorded thtree songs in a local studio and played some extremely high profile arcade gigs at the local mall.
One late summer night, a few close friends and I were rooting around a dumpster next to a closing supermarket. Our thinking was it probably had some cool stuff in it, and we were correct. Somehow I found a mint in the box Roland 707 drum machine, amongst other valuables, including a big box full of spray paint and a complete set of golf clubs. I think it may have been a "Tony Soprano" type drop off because looking back, it doesn't really make sense that the items we found were leftovers from "Foodtown" shutting down. Anyway, I got a head start on a very pro beat machine.
What were some of your formative influences?
My first influence was my dad's music. He's an oldies DJ (Doc South), so I was exposed to lots of music as a kid—early R&R, early R&B, doo wop and novelty type songs.
The first time I heard Herbie Hancock's "Rockit," my mind switched to mental pictures of boxes and screens automatically making music. I listened to Kraftwerk and thought about hooking up an extension cord to the bottom of my snare to get the sound they were making.
I also caught the first wave of acid house, techno and later jungle that hit NYC in the early '90s. My friends and I went to Limelight on New Year's Eve to see 808 State and N-Joi perform live. We had a pretty, pretty good time and continued to go to different parties up and down the east coast (D.C. to Vermont) every weekend and even some weeknights to see our "friends and family." I pretty much grew up on the dance floor with Aphex Twin, Moby, Deee-lite, Joey Beltram, Josh Wink, DB, Jason Jinx, Cassien, Frankie Bones, Grooverider, DJ Ani, Keoki, Michael Alig, Carl Cox, Soul Slinger, Sasha, Giant Step, Masters at Work, Dimitri from Paris, Direct Drive, Nice Collective and Timex Crew in the beginning of their heydays. New York at that specific time was complete music party Babylon. I was also listening to American hip-hop like Mobb Deep, De La Soul, Jungle Brothers, Black Sheep and Public Enemy. Also early '90s British invasion like Primal Scream, Ride, Blur, EMF, Charlatans and Stone Roses. So it's easy to see why I naturally tend to make a form of post everything hybrid music.
Where'd you grow up? Tell me a bit about your upbringing. Did you grow up with music around you and was your music-making encouraged?
I grew up in a part of Pennsylvania know as the "Endless Mountains," located in the north central part of the state. The area is considered extremely rural, there is only one stop light in the entire county, and officially has more black bears living in it than people. When I turned 12, I moved to Morris County, New Jersey, and had more things in my town to be chased and occasionally arrested for skateboarding on.
My Dad is an oldies DJ; growing up, he had two "on air" radio shows at WNTI and WRNJ. I went to his shows at stations, car shows, watched doo-wop concerts and listened to his show tapes every time we went somewhere in the car. I grew up with two technics, a mixer and free reign on a room full of records. I knew how to properly hold a record before I could talk and DJ'd high school parties instead of working a real job. I was listening to his present day Internet show (docsouth.net) the other day, and it hit me like a brick. I am a musician because of who my father is and his extreme love of music.
My Mother taught me piano around the house when I was a wee tot and fully supported the snare drum years. She is a very talented writer, artist, painter, extremely intelligent and super psychic. She taught me about art and meditation. I am an artist/painter due to her influence.
How long have you worked at Amoeba? What do you do at the store?
I was at the S.F. store on opening day as security, worked there five or six years, then headed east to N.Y.C. for about seven years, moved here to Los Angeles and started working at the Hollywood Amoeba on the floor in the electro/dance corner, which encompasses electronic, techno, house, jungle, dubstep, trance and freestyle. I have been in Hollywood about seven years; if you add it all together, I have been clocked in at Amoeba for a fairly large cross-section of my life. My usual day at the store consists of organizing the section, helping people find the music they love, writing reviews and subtly teaching people the plural of vinyl is vinyl. I have learned a lot about how music sells and befriended lots of really great "friends and family" over the years. I believe it is one of the best places in the world for an independent musician to work.
What have been some of your craziest experiences here? I heard Queen Latifah bought one of your albums?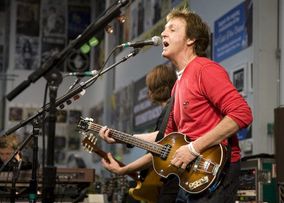 The Paul McCartney in-store is an experience that stands out. People were literally camped out for seven days to see him perform. The store was a media blitz and packed to the gills. True present day Beatlemania. My favorite part of his set was to hear him play "Blackbird" on acoustic guitar. I distinctly had the thought that I should go home and practice guitar. Very simple and very moving.
One time while getting down a LL Cool J Walking with a Panther album off the wall for Eminem, I accidently shoulder bumped him in the process. To his credit, he was super nice when I excused myself he gave me the insta "all good dog."
Yes, it was confirmed by a few cashiers that Queen Latifah bought herself a copy of my extremely limited byrdsol surya systems [instrumentals] album. A couple other past "bought my music" highlights have to include Martin Gore from Depeche Mode and Bjork from Bjork.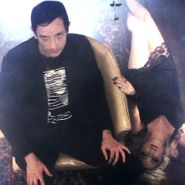 You said you'd been working on pierreponte for the past three and a half years. Have you been working to shape those songs during that time and then recording them at once or recording them as they come? Tell me a bit about your process.
One of my favorite sayings is "Life is a sketch." I recorded this album four times and mixed it five. Every time I chose to re-record, I either thought my playing and singing had improved enough to warrant a redo or I added something to my studio that improved the recording quality dramatically. I bought a mic-pre, and everything sounded so much better I had to redo the recording. Then a couple months later, I was given moveable sound baffles from the Fleetwood Mac house up the street—again, the quality jumped. Each time I did all the vocals and guitars in one day due to mucho rehearsing, it was easy to lay down, again, again and again. While mixing one of the last songs I wrote for the album, "Mellon Ave.," I accidently stumbled on a mixing trick that worked a little to well. I went back and re-final mixed all the other 10 songs to bring their production level up to par. I personally believe it was worth sorting out the details.
Where did you record the album? Self-produced? Any other players on the record?
I recorded pierreponte in my writing studio at Amoeba House aka/kna Bad House. A hidden piece of old school Hollywood, built in 1902, when the roads were still dirt, and it was orange groves all the way to La Brea. The last person to have seen the Black Dahlia girl alive lived here, so it definitely has its share of history. I have two rooms so it makes for a proper "good enough for indie rock" studio. I wrote, arranged, recorded, mixed, and produced everything at la casa. Thomas "MDB" Germain aka Tommy Pickles played all the electric "wolf" guitars. Phillip King played harp and beatboxed on "SloKngHrpBeat." Josh Taylor Fantastic of Foot Village told his true Hollywood werewolf story in his own voice on "Supermoon." Felix Herrera aka Sigils and I recorded/produced the creepy standup string piano sample bank used in "Supermoon" together.
By comparison to Surya Systems, pierreponte is more guitar-based and even folksy at times. Can you talk a bit about your progression as a musician, how you went from making more exclusively electronic music to a hybrid sound?
I felt it necessary to get myself out from behind the gear. Electronic production today doesn't really require you to play much music. Ten minutes of playing sounds into the computer and two hours of editing to write a song. I consciously decided to write music in a way that is less technical and more from the human heart.
I also had three consecutive dreams (just like Scrooge) where a certain singer songwriter who has passed on to the non-physical came to me and told me to focus and practice everyday until I could play and sing with my eyes closed. I took it to heart and decided to hyper focus. I basically played guitar and sang over selected beats from surya systems [instrumentals] as a way to learn guitar. I rehearsed for one year at a minimum of one hour per day, by the end of the year I had the melodic and lyrical structures for pierreponte. I have messed with guitar since I was a kid, so it was a matter of making it a life craft/skill.
Is the album still an exclusive digital download through Amoeba?
Yes it's exclusive to the Amoeba site and I plan to keep it that way until it comes out physical. I have decided that since they were able to build the Golden Gate bridge, I will do the planning and get this album out myself. I can get the record distributed nationally, "crowdsurf" as much as possible to manufacture, promote, and whatever I am able to raise will be my budget. The indiegogo campaign started on July 21 and will run four weeks. I am bartering actual points on the masters, lots of one-of-a-kind original byrdsol paintings/artwork, and pre-orders of vinyl/cd.
I love how the "4 Redrum in the Dark" video goes all out on the vampire angle. Are you a horror fan/what are some of your favorites?
My life is pretty much a "X-File." Lets just say I believe in intelligent life throughout the cosmos, telepathy, non-physical entities and different dimensions due to first hand life experiences. Some of my favorite horror films are The Exorcist, The Shining, The Orphanage, Troll 2, Zodiac and Halloween. So there is a bit of horror fan in me, fo sho.