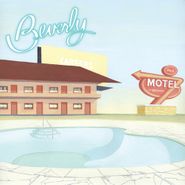 Fizzy, alt-rock distortion, cooing, girlish vocals and surf-pop melodies make up this duo's incredibly likable debut record. With Frankie Rose (of solo, Vivian Girls and Crystal Stilts fame) on board, Drew Citron's delicate songs get just the right amount of rhythmic punch and fuzzy bite. The songs range from sweet and easy ("Honey Do") to kind of creepy and menacing ("Planet Birthday") in a quiet girl in the back of the class kind of way. It's not the most original thing you've ever heard—you can easily pick out the Pixies/Breeders references on songs like "Madora"—but that shouldn't curb your enjoyment, as these two are far from the first to pull from that well. They're even better on songs like "All the Things," which build from that mold but stretch into strange ways, blending melodies and chords into the grays in between the bright color bands. And the production is pure '80s college rock heaven, sounding like remastered C86 tracks or early Rough Trade songs that hadn't seen the light of day before. So, you may know what you're getting with Beverly, but in the capable hands of these two, that proves to be a very good thing.
Brian Eno & Karl Hyde – High Life (CD)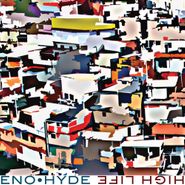 High Life brings together two titans of electronic music, Brian Eno and Underworld's Karl Hyde, and the results are predictably brilliant. Just two months ago, the duo released Someday World, but High Life shouldn't come off as an album of leftovers; rather, Eno says the pair wanted to continue collaborating after that album was finished because they were on a roll. Whereas Someday World sounded like a true collaboration, full of sparkling electronic pop and a few mood pieces, High Life feels more like an early Eno album, the surging, trebley guitars of "Return" calling to mind Here Come the Warm Jets, for instance. The afrobeat-inspired "DBF" delightfully reminds us of Eno's collaboration with David Byrne, My Life in the Bush of Ghosts, as well as his production work on Talking Heads' seminal Remain in Light, with some electronic flair added by Hyde. Spectral, warbling female vocals make the otherwise laid-back funk of "Time to Waste It" into a unique experience, one of the album's strongest tracks. "Lilac" pulls out a skittering beat that serves as a nice counterpoint to the duo's warm, uplifting vocals. The album closes with "Cells & Bells," whose digital cicadas and deeply intoned harmonies make for a beautiful, meditative piece. High Life is definitely heady and its tracks are long, but anyone looking to have an itch scratched for new Eno material that comes close thematically to albums like Another Green World will find High Life to be divine.
See all of this week's new releases here
Follow PST on Facebook