Zola Jesus – "Dangerous Days"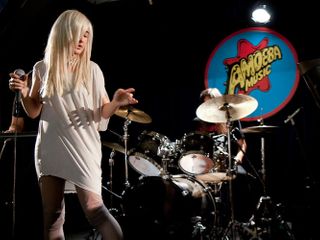 It's been three years since Zola Jesus aka Nika Rosa Danilova's last album of new material, 2011's terrific Conatus. The first taste of her new album, Taiga (due Oct. 7 on Mute), shifts further away from her early goth-noise material and builds on the more pop-oriented sound she's shifted toward since the Stridulum EP, singing clearly and boldly over a dance-pop beat but with the same paralyzing strength her voice has always commanded. It's startlingly different but sure-footed and sounds as brilliant as anything she's done, leaving us dying to hear the rest of what's in store with Taiga, which was co-produced in her newly adopted home of L.A. Dean Hurley (who's worked with David Lynch and Danger Mouse, among others).
LA Font – "Motor Rally"
I'm really digging LA Font's new jam, a snotty bit of punk-fueled power-pop that sounds perfect right now just as summer comes our way. Vocalist/guitarist Danny Bobbe uses the America presented to us by TV and film of the 1950s—junior proms, football teams and motor rallies—and undercuts it with punk noise and lots of drug references. It's from their Teen Bazooka EP, out July 29 via Kill/Hurt Recordings. They'll be at the Satellite for a residency every Monday in July.
Joel Jerome – "Everybody Wants Somebody"
Photo by

Julia Brokaw
Joel Jerome has been a SoCal mainstay for the past decade, first producing immaculate power pop in the great dios/dios (malos), and now more recently under his Babies On Acid moniker. His first solo release under his own name, Psychedelic Thriftstore Folk, is due Aug. 26 on Manimal and we've got the first song from it, the expansive "Everybody Wants Somebody," with swimming organs and a casual singalong melody that sneaks into your brain eventually giving way to a gorgeous guitar solo and celestial synths. It's big, detailed and damn near perfect.
Woods – "Tomorrow's Only Yesterday"
Woods have shared the B-side from the new Tambourine Light single, due July 8 on Captured Tracks. Both "Tambourine Light" and the 007-vibing "Tomorrow's Only Yesterday" aren't on the band's excellent, recently released With Light and With Love album, so pick up the single July 8 for two brand new songs by the band.
Cold Beat – "UV" video
Cold Beat, the new project from Grass Widow's Hannah Lew, has an evocative video for their song "UV" out, from their upcoming album Over Me, out July 8. Not recommended if you're prone to seizures.

Shows This Weekend: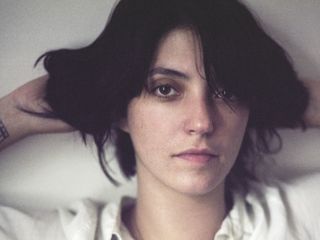 Friday: Bleached, Zig Zags, Audacity and L.A. Witch at the Echoplex ($15, 8 p.m.)
Saturday: Sharon van Etten at the El Rey ($20 with only a $2 service free at Amoeba Hollywood!)
Sunday: Robyn and Royksopp at the Hollywood Bowl ($33+, 7 p.m.)