On June 30 The GRAMMY Museum's Drop program will feature John Fullbright at 8 p.m., with a discussion and live performance with the artist. Amoeba is proud to sponsor the event. Tickets are $15 and can be purchased here.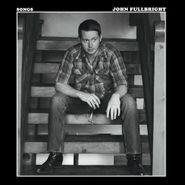 At the young age of 26, Americana singer/songwriter Fullbright has already received a heap of praise since releasing his first albums, 2009's Live at the Blue Door and 2012's From the Ground Up (CD or LP). The Los Angeles Times called From the Ground Up "preternaturally self-assured," and NPR has dubbed him one of their "10 Artists You Should Have Known." Featuring Fullbright's twangy vocals, soulful lyrics and roots-inspired guitar and piano work, From the Ground Up went on to be nominated for a Best Americana Album Grammy.
As part of The Grammy Museum's Americana Music Series, the museum hosts Fullbright to celebrate the release of his most recent album, Songs, which is out now. Join The Grammy Museum for a discussion with Fullbright, followed by a performance at the museum's Clive Davis Theater.
Watch John Fullbright play bits of Songs and talk about writing the album in the video below: