Here are 12 great albums that are coming out soon. Better save your pennies!
Black Lips – Underneath the Rainbow (LP, Limited Edition LP or CD)
Out March 18
Atlanta's finest, scuzziest garage rock band is back with its seventh album. It's co-produced by The Black Keys' Patrick Carney. The video for "Boys in the Wood" has all kinds of homoerotic and drug-fueled forest mayhem.
Perfect Pussy – Say Yes to Love (LP or CD)
Out March 18
The NSFW-named band crafts an eight-song aural assault on their debut, feauturing sunny hardcore riffs and Meredith Graves' distorted vocals.
The War on Drugs – Lost in the Dream (LP, Purple Vinyl or CD)
Out March 18
The War on Drugs' latest album is even dreamier and more melodic than their previous release, Slave Ambient, full of road-trip songs for getting deliberately lost.
Cloud Nothings – Here and Nowhere Else (LP, Color Vinyl and CD)
Out April 1
Cloud Nothings' newest album is already generating buzz, thanks to a couple of early tracks like the dynamite "Psychic Trauma."
Mac DeMarco – Salad Days (LP or CD)
Out April 1
We just love Mac DeMarco. Everything we've heard from Salad Days so far has been golden, including the ornate "Passing Out the Pieces."
OFF! - Wasted Years (LP or CD)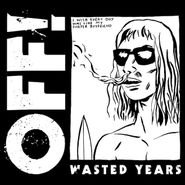 Out April 8
The hardcore supergroup releases another album of breakneck-speed rockers delivered in less time than it takes to get your fast-food order.
EMA - The Future's Void (LP or CD)
Out April 8
EMA's great Past Life Martyred Saints recalled '90s alt-rock with an art-school spin. So far, The Future's Void continues that trend, vibing Smashing Pumpkins, emo and California girl-groups like The Bangles on "So Blonde."
The Faint – Doom Abuse (LP or CD)
Out April 8
The Faint are back and as dirty/sexy/cool as ever, judging by "Help in the Head."
The Mary Onettes – Portico (LP or CD)
Out April 8
New-wave/dream poppers The Mary Onettes haven't had an album out since 2009, so it's high time for a new one. "Naive Dream" is gorgeously woozy. Missed these dudes!
Thee Oh Sees - Drop (LP or CD)
Out April 15
After a breakup fakeout, John Dwyer's band is back with a new album, never slacking in their prolificacy.
Avey Tare's Slaher Flicks - Enter The Slasher House (LP or CD)
Out May 19
Animal Collective man Avey Tare's new band with ex-Dirty Projectors member Angela Deradoorian and ex-Ponytail drummer Jeremy Hyman. "Little Fang" features the wild twin vocals of Avey Tare and Deradoorian.
Coldplay – Ghost Stories (CD)
May 19
Megastars Colplay respond to their previous album, the grandiose Mylo Xyloto, with a more stripped-down album that returns them to their roots. Hear the grooving "Magic" below.
PLUS:
Led Zeppelin are reissuing their first three albums on vinyl! Preorder Led Zep I, II and III on LP or Deluxe LP. They're out June 3.
Led Zeppelin I
LP
Led Zeppelin II
Led Zeppelin III
--
Follow PST on Facebook
Relevant Tags
Mac Demarco
(35),
Coldplay
(9),
Avey Tare's Slasher Flicks
(3),
Thee Oh Sees
(31),
Off!
(15),
Cloud Nothings
(8),
Perfect Pussy
(2),
The War On Drugs
(14),
Black Lips
(11),
New Releases
(215),
New Albums
(213),
Spring
(6),
Lists
(63),
Ema
(7),
The Faint
(5),
The Mary Onettes
(2),
Led Zeppelin
(29),
Preorders
(30)