Cheatahs – "Get Tight" video
Cheatahs are the latest announcement for the upcoming Red Bull Sound Select show we've curated at Amoeba, which takes place Feb. 27 at The Echoplex (RSVP here for $3 tickets) and also features FIDLAR, Cherry Glazerr and Isaac Rother & The Phantoms—click on those links for interviews with each band. We're excited to have Cheatahs on board—"Get Tight" is a shoegazey little slice from their self-titled debut, out now, with a trippy ass video to boot.
Thee Oh Sees Are Back Together! Stream "Penetrating Eye"
Well that didn't last too long, thankfully. With frontman John Dwyer moving to Los Angeles from S.F., Thee Oh Sees were going to hang their hats after releasing many excellent albums over their run. Now they've announced a new LP, Drop, releasing April 19 (Record Store Day!) on Castle Face. After all, why call it quits when the band continues to put out such skin-melting goodness?
Bart Davenport – "Fuck Fame"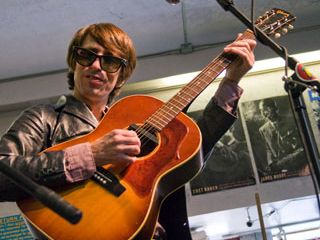 Bart Davenport's Physical World is fulfilling all of our jangly power-pop dreams right now. The latest track he's unveiled from it, "Fuck Fame," is as sweet as it is sassy, as Davenport sings about wanting money over fame in his earthy tone. The album's out on Burger/Lovemonk March 4.
Pyramid Vritra – "Eleven12"
We're also super stoked on Pyramid Vritra around these parts. The young man is affiliated with Odd Future, as part of the duo The Jet Age of Tomorrow, and he's already premiered the excellently weird track "Tea & Lemonade." "Eleven12" is only slightly more conventional, jazz-infused hip-hop that seems to even make a drum machine sound chilled out. INDRA is due Feb. 17 on Stones Throw, and you can preorder it now.
Bleached - "Guy Like You" video
This just in! Bleached has a new video out, just in time for Valentine's Day, for the song "Guy Like You" from Ride Your Heart. Cute! It's made up of footage from their last tour. Speaking of, they'll be at Berkeley's Upper Sproul Plaza Feb. 27, S.F.'s Rickshaw Stop the 28th and down here at Santa Ana's The Observatory March 22-23 for Burgerama.
Shows This Weekend:
Friday: L.A. Witch, Cherry Glazerr and others are at The Smell ($5), or it's the Vivian Girls' last show ever at The Church on York ($10, 8 p.m.)
Saturday: If you didn't get tickets to see Spiritualized at the Ace, Thao & the Get Down Stay Down and Sonny & the Sunsets are at the El Rey (some tickets left here)
Sunday: Wax Children and Washing Machines are at The Satellite ($8, 8:30 p.m.)