Banks – "Brain"
We were big fans of Banks' London EP, which featured the slow and sultry "Waiting Game." Though "Brain" shares that same sensual foreboding, L.A.-based Jillian Banks comes completely out of her shell with a Beyonce-worthy distorted vocal. Producer Shlomo seems to have helped bring out the best in Banks, helping her move from underground favorite to a sure-to-be-hitmaker. The change to a more personable sound suits her—this is an artist who until recently put her own phone number up on Facebook in lieu of using social media, after all.
Incan Abraham – "Concorde"
Wow, Incan Abraham are really stepping it up on their new single, "Concorde." Big, lush chords hit immediately like a more pop-minded version of The War on Drugs, and the vocals come through vibrantly, with a radio-friendly chorus and harmonies. Producer Lewis Pesacov (FIDLAR, Best Coast, Fool's Gold) is at the helm here. Tolerance is due April 8 on White Iris.
De Lux – "Make Space"
Maybe it's the success of Daft Punk and their now Grammy-winning Random Access Memories, but new disco that actually sounds like disco is feeling pretty great to us right now. Like fellow Angelenos and labelmates Classixx, De Lux recall the energy and spirit of classic disco while doing something different with it—in their case, they give it a dose of punky sass and crustiness wile retaining some of the crucial elements of '70s-era funk and disco. I could probably think of more interesting things to say about it, but I'm too busy dancing in my swivel chair. Their new album is called Voyage, and it's out April 8 on Innovative Leisure.
Burnt Ones – "New Heroes of Subscription Service"
The sound of S.F.'s Burnt Ones and their new song is immediately appealing, a Silver Apples-ish groove built on organ and psychedlic riffery that rides into a friendly garage-rock chorus. Love that title. Perhaps it's more mockery of S.F.'s tech elite. Their third album, Gift, comes out March 25 on Castle Face. They're at S.F.'s Rickshaw stop Feb. 26 and coming down through L.A. shortly thereafter.
together PANGEA - "Offer"
Wanna watch the members of together PANGEA and friends make out with each other, spit booze into each others' mouths and cavort around L.A. spots like wild animals? Check out the video for "Offer," one of the best songs from their new album, Badillac, which is out now. (There are some NSF dubs nip slips, BT dubs.)
Shows This Weekend: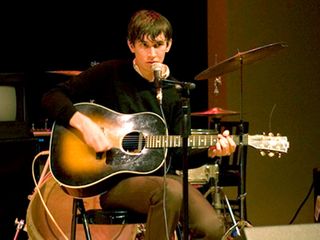 Friday: Shark Toys, American Grizzly, Shells and Spokenest are at Pehrspace ($5, 9 p.m.)
Saturday: GRMLN and Yuck are at the Troubador ($15, 8 p.m.)
Sunday: Frankie Rose, Dream Boys and Devon Williams are at The Echo ($10, 6 p.m.)
--
Follow PST on Facebook