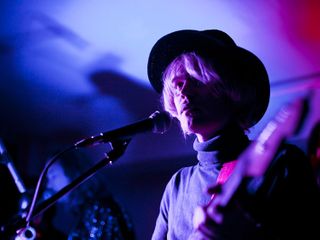 Connan Mockasin's Caramel was one of the more intriguing records of 2013. As syrupy and sumptuous as its name would suggest, the native New Zealander's second album is a trip, yawning awake with spacey love songs, delving into psychedelic soul singles (the irresistible "I'm the Man, Who Will Find You") and moving into a five-part, mind-bending suite called "It's Your Body." Even among underground releases, it's a strange bird, and an album that stays with you. I sat down with Mockasin to ask about the record as he prepared to play in San Francisco. He'll be at Amoeba Hollywood this Friday Jan. 17, performing at 6 p.m.
There's a really interesting quality to the album that the whole thing feels kind of warped and disorienting, but you get used to it as the album goes on. Was that part of the idea, to create a sort of all-encompassing sound world?
Mockasin: I didn't really think about it too much. I just wanted to make what a record that was called Caramel would sound like. That's just what I had in my head.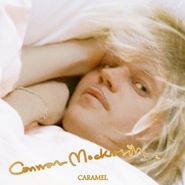 What made you choose the word "caramel" as inspiration?
Mockasin: I don't know. I just liked the name for a record! I just liked it for a record name and that's when I started hearing the music after I chose the name for a record.
How does that translate live?
Mockasin: We're still learning. We just started the tour in New York, so we've only done four shows so far. We just started about five days ago. Originally I wanted to record it with the band, but I ended up all over the place, so I ended up doing it by myself in a studio in a hotel room in Japan for a month.
The first one (Forever Dolphin Love), I just made because my mom told me to. So it just takes a bit of time to figure that out. The audiences in America have been really nice, though, really lovely audiences here.
This album feels more influenced by classic soul than previous material. Was that something you had in mind when you wrote songs like "I'm the Man, That Will Find You"?
Mockasin: Yeah, that was sort of a little bit of what I thought a record that sounds like Caramel would sound like. A little bit oceany, as well.
Oh yeah, I read you grew up in a town near the ocean. Did that go into your inspiration for the record?
Mockasin: Maybe, the last one (Forever Dolphin Love) definitely, I think. You don't really think about it at the time.
Do you feel an affinity with Flying Nun and that history of New Zealand indie rock?
Mockasin: I'm not sure because I don't really know much about it. My knowledge of music is really poor. But from what I've heard, like someone will go here's something, and I'll go oh, that's cool. I'm a bit lazy with music knowledge.
How did the "It's Your Body" tracks come together? Were they different pieces you had that were tied somehow, or did you write it as one long song and then break it up?
Mockasin: That part was all sort of done as one whole song, which is how I pretty much wrote the last record. So it's kind of the halfway mark on the record, it's like a small record inside the record. I like records; I don't like writing songs as much.
I was curious about your upbringing. Did you grow up with music as an important part of your household?
Mockasin: Yeah, my dad listens to a lot of music. Which is kind of annoying at the time when you're growing up, because you just wanted to watch TV. And he would turn up the record really loud and walk around the house with the doors all open so he could hear it drinking wine or whatever. So yeah it was a bit of a pain growing up like that.
What kind of stuff did he listen to?
Mockasin: He's got quite a varied record collection. He loves Debussy, Rickie Lee Jones, James Taylor, The Beatles, Van Morrison.
A lot of music gets labeled psychedelic these days, including yours, which—it wouldn't be the first word I'd use to describe it. What do you think about that attribution to your music, does it fit?
Mockasin: I don't really think about it. You could call it rock music, it's the same thing. I just say rock music. I'll have to think of a way to describe it.
What are your plans for 2014?
Mockasin: When we finish this, we're going to go to the U.K. and Europe and will be finished at the end of February. We'll be touring the States again, a longer tour. I want to move here.
Oh really? What city were you thinking of moving to?
Mockasin: I really enjoy New York so far.
What have you been listening to lately?
Mockasin: Nothing really in particular! I'm not a very good collector of music. I'm just really lazy with searching, trying to find music. Rory (McCarthy, a touring band member) was playing me something on the plane that was really neat.
Any older music you've been spinning lately?
Mockasin: I have been enjoying Rickie Lee Jones, actually.
--
Become a fan of PST!