Jack Name – "Pure Terror"
You may not know his name yet, but you know these names: Ariel Pink, with whom he's worked; and White Fence, with whom he's a touring guitarist. With those impressive credentials, check out L.A.'s Jack Name, a lo-fi pop wiz along the lines of the aforementioned, heavier on the psych-pop-rock side, with cool theraminny noises floating in the corners above a solid, classic arrangement. His debut, Light Show, is due Jan. 21 on Drag City's God? imprint. Listen via Pitchfork.
Fuzz – "You Won't See Me" live
A while back I blogged about Castle Face's new Live in San Francisco series, which began with White Fence's Live in San Francisco, available now (CD or LP). The next edition, featuring Ty Segall's aptly named Fuzz, hits Dec. 3. You can hear a cut from it now, which saw Segall and co. playing at famed gay bar The SF Eagle! Sludge rock and bears go together like actual bears and honey.
Together PANGEA – Badillac Trailer
Sometimes when you're lazy/poor, you eat gross shit. One time I added an egg to spaghetti in hopes of making it more filling. It was not a good idea. The poor girl in this trailer for Together PANGEA's Badillac album, due Jan. 21 on Harvest Records, makes a nice helping of spaghetti and ketchup and mayonnaise for the band's Danny Bengston while he soaks in a tub with Badillac written in blood (I hope it's blood) on the wall. The song in question is "Where the Night Ends," the album's closer which declares (to no one's shock) that they like to stay up late with white girls. Check out the L.A.-based garage rockers Nov. 30 at The Echo.
Magic Trick – "Crazy Teeth"
Tim Cohen's (of The Fresh & Onlys) Magic Trick are releasing their third album, River of Souls, Dec. 3 on Empty Cellar. You can hear the first taste, "Crazy Teeth," here, which is a little less psychedelic, a little more countrified than his previous work, moving along on a nice, straight-ahead march.
FRONDS – "Wash" video
Set to spine-tingling, oceanic surf rock, FRONDS' wash video is a lo-fi California dream. FRONDS is the new project Dylan Tidyman-Jones, formerly of the Bay Area's The Mallard, and it's on both FRONDS' self-titled album and Sonny Smith's great I Need You Bad compilation of Bay Area bands, out now on Polyvinyl. Space out hard on this.
Shows This Weekend: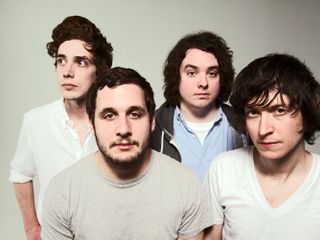 Friday: Born Ruffians, Tashaki Miyaki and GRMLN at The Echoplex ($15, 8 p.m.)
Saturday: Toro y Moi and Classixx at The Wiltern ($22.50, 8 p.m.)
Sunday: Wire at The Echoplex ($22, 8 p.m.)
Become a fan of PST!