Emily Jane White – "Keeley"
There's nothing we like here at PST like sad girl music (or sad old man music, for that matter). Emily Jane White's "Keeley" isn't sad as much as morose, the feeling of an ancient ritual being carried out with no sense of self. White's crackly voice adds to that feeling of helplessness over Julee Cruise-style synthesizer melodrama, singing lyrics seemingly pulled out of The Handmaid's Tale—lines like "Oh Keeley, you'll always be my maiden of the dawn" are strange, sensual and foreboding). Really paralyzing stuff. Blood / Lines is due Nov. 19 on Important Records.
So Many Wizards – "Night Chills"
Whoa, I'm digging this new sound for L.A. indie pop stalwarts So Many Wizards. It has the springy energy of their early releases with a little more sleekness for a song that doesn't sacrifice the band's intricate arrangements while just sounding really cool. I love how it sort of goes wild halfway through but never really loses sight of its hooks. The Night Chills 7" is due later this month; catch them at The Smell for the record release party Nov. 22. You can read my interview with So Many Wizards here.
Blondfire – "Young Heart"
This eminently likeable ditty comes from L.A.'s Blondfire. You could say "if you like Beach House, Sally Shapiro and Cocteau Twins, you'll like Blondfire," and you'd be right, but they really don't sound anything like any of those bands, which is really exciting—it's hard to have a sound this poppy and immediately enjoyable while standing apart with a pretty unique sound, a lovably naïve-sounding synth pop/reverb rock hybrid. Young Heart isn't due till Feb. 11, 2014, but I've already got my first album I'm excited for in the new year.
Ty Segall – "The Man Man" video
Have you ever envisioned your own death in a dream? That's sort of what Ty Segall's new video is like. "The Man Man" comes from Segall's acoustic album Sleeper, a kind of subtly great record that finds Segall unplugging but keeping that same restless energy, hammering out major-chord jams and making an impace even without his explosive backing band. Read my interview with Ty Segall here.
Wymond Miles – "Night Drive" video
"Night Drive" is a bleeding-heart, my-synth-overfloweth highlight from Miles' fine, recently released Cut Yourself Free LP on Sacred Bones. As its name would suggest, it's a big ol' romantic synth ballad a la late '70s Bowie, and its been given an appropriately neon-lit music video. Watch and enter a wonderland of color and light.
Shows This Week: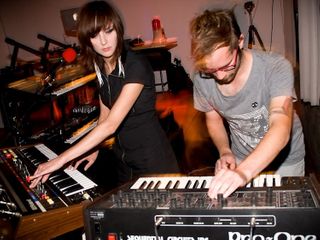 Friday: Crocodiles, Wymond Miles and Roses are at The Echo ($10, 8:30 p.m.)
Saturday: Frank Ocean, Tyler, the Creator, Earl Sweatshirt and more at the L.A. Coliseum ($50, 2 p.m.)
Sunday: Soft Metals at The Echo ($10, 10 p.m.)
Become a fan of PST!