Photo by

Angel Ceballos
L.A.'s VUM create a dawn-to-dusk soundtrack of moody organ tones, dirty drum machine sounds and Jennifer Pearl's deep, ghostly voice on their new album, Psychotropic Jukebox (vinyl out Dec. 3). To celebrate the release of the album, the trio, made up of Christopher Badger and Amoeba alumn Pearl and Scott Spaulding, is playing The Echo in Echo Park every Monday in December. The residency shows are free and start at 8:30 p.m. The shows will run as follows:
12/2 with The Parallelograms, HOTT MT, Conway
12/9 with Lo-Fang, Globelamp (Member of Foxygen), Galaxy Electric
12/16 with Fang Moon, The Present Moment, Black Mare
12/23 with Death Valley Girls, DJ Mahssa (Mount Analog)
12/30 with Intimatchine, Net Shaker
We caught up with Pearl prior to VUM's residency to talk about their terrific new album.
How did your approach to making this record differ from your previous recordings?
Christopher [Badger] and I write and record all of the VUM material ourselves in our house, often times only using one or two mics to track the whole record. One of us will bring an idea to form and we hash it out through either the live or recording process, or both. In that sense, the approach to this record was the same as Night Sun or Strange Attractor. I think what changes, is us. Our ideas, influences, stories and cells are always in flux so we inevitably make a somewhat different sounding album each time. Another big difference is we have Scott Spaulding adding live drums to our sound on this album.
I love how minimalist you keep things. Was there a temptation to make the sound bigger? How do you decide what to leave in and keep out, is there a lot of editing that happens in these songs?
If you are listening to a VUM recording, rest assured every note you hear is the result of a lengthy debate between Christopher and myself. We really only want to keep what each considers absolutely essential to the track and use the recording process as a time to cut the fat from songs we have been playing live. We definitely treat the editing process as another creative pass on a track and try to find that angle of repose, where there is just enough sound to stand the song up as a mountain worth listening to.


VUM - Hall of Mirrors
Watch and comment on YouTube
You had a single called "Laura Palmer" last year. I suppose it goes without saying that you guys are big David Lynch fans. What other non-musical influences do you think shows through in the music?
Hypnic myoclonia and ADHD.
I've noticed a lot of your song titles reference actual places ("Hong Kong," "Badlands," "Echo Mountain"). Are you inspired by those places in particular? Is it more the idea of spaces, or the evocation that their names inspire?
I actually haven't visited any of those places in physical person, even the relatively close Echo Mountain. These songs are stories about an instance or experience that occurs on the mind-plane-fantasy of what this place may be like within an imaginary context influenced by both the shared cultural notion of the place (if there is one) and my own real life experiences. For instance, "Echo Mountain," the song, isn't set in the chaparral of Southern California, but the dense jungles of the South Pacific; a place where the stories of Polynesia and Vietnam merge.
It seems like you guys get a lot of blog/radio love overseas. Were you surprised by how Europeans in particular seem to be into you guys?
We have been very fortunate to have a lot of love and support from European listeners, blogs and bands. We have an interview coming up next Monday in the Parisian blog La Blogothèque and are very much looking forward to our European tour in March 2014. It is being booked now by Vienna based Minouche Music.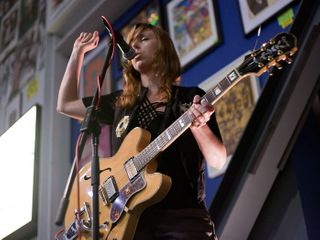 VUM performing live at Amoeba
I see the band listed among coldwave/minimal wave bands, is that an influence on the sound?
We do think it is a little funny that our sound is referred to as minimal mainly because it sounds so big and full to us. Really minimal music would be the sound of La Monte Young's butterfly flapping its wings. We are fans of many of the bands that were later organized into the categories of minimal synth, and coldwave/post-punk, but on the other end of the spectrum we also love the excessive sounds of psychedelia and Krautrock, and I think the music we write and produce walks the line somewhere between.
The album feels very nocturnal to me. Were you specifically trying to evoke that sort of middle-of-the-night feel?
I do agree that several of the tracks have a nocturnal feel, but I don't think we ever set out to write with that in mind. I was born on the equinox, and I feel like I am equal parts day and night.

Is there a significance to the title Psychotropic Jukebox? Other than the album does sort of sound like a mix of songs from an otherworldly jukebox.
Psychotropic Jukebox was decided upon because we consider music to be a place where time is elastic and the listener's state of consciousness can be transformed. I liked the idea of the listener changing states like flipping the channels of a TV as she or he passes through the tracks of the album.
Can you make us a list of five of your favorite records?
Well, it would be too hard to reduce our list down to five favorites, so instead I will tell you the five records that are sitting next to our record player that we need to put away:
Various - Brass Pins and Match Heads: International 78s
Public Image Ltd. - Flowers of Romance (12" single)
Various - Monster Mash
Ssleeperhold - Ssleeperhold
Cluster - Zuckerzeit


VUM - I Will Return
Watch and comment on YouTube


VUM - Savage (Live at Amoeba) [2012]
Watch and comment on YouTube