Upset – "She's Gone"; preorder She's Gone on CD or LP
The new band featuring Ali Koehler of Vivian Girls/formerly of Best Coast, Jennifer Prince on guitar and Patty Schemel, formerly of Hole (and of Hit So Hard, the documentary made about her) has debuted the title track from its forthcoming album on Don Giovanni, due Oct. 29. It's a scrappy power-popper in the vein of such bands as Heavenly, Bettie Serveert and Velocity Girl. If you have a yen for female-fronted alt-rock, you'll love Upset. They'll be at S.F.'s Bottom of the Hill Nov. 20 and L.A.'s Echoplex Nov. 21. You can pick up first single "Oxfords and Wingtips" from Amoeba now, or preorder She's Gone here! (Also, check out how Upset fits into the Vivian Girls Family Tree.)
Boardwalk – "Crying"
L.A. band Boardwalk has previously released, "I'm to Blame," an organ-laden breakup song in the vein of Mazzy Star and Beach House, but the surf guitar of this new song takes its cues further back—the title should clue you in—to the likes of Roy Orbison and Buddy Holly, though with the same murky haze they've previously treaded in, not unlike Julee Cruise's collaborations with David Lynch. Even at under three minutes, it's easy to get lost in those seagull riffs and waves of reverbed beauty—once you visit Boardwalk, you may never want to leave. Their self-titled debut album comes out next week on Stones Throw. You can pick up both songs on a 7" from Amoeba now.
Radar Brothers – "Reflections" video
L.A.'s Radar Brothers are touring behind the country fuzz of Eight; they'll be at S.F.'s Bottom of the Hill Oct. 14 and L.A.'s Satellite Oct. 16. And they've debuted a video for the track "Reflections" that seems to drum up several different eras of music video—kaleidescopic '60s vids, '70s prog videos with big faces singing, and '80s special effects. That seems to fit a band whose sound is distinctive yet tough to pin down as just one thing.
Flaamingos – "All I Wanna Do is Live" video
Flaamingos are a great L.A. band, straddling shoegaze and darkwave but sort of doing their own thing. The way the drum machine-ish beat drives up to its clipped yet memorable chorus makes this song a really cool, intricate piece of guitar pop. Check out their dreamy video, which sort of turns into a moving postcard at one point, and pick up Flaamingos on CD or LP.
Show picks this weekend: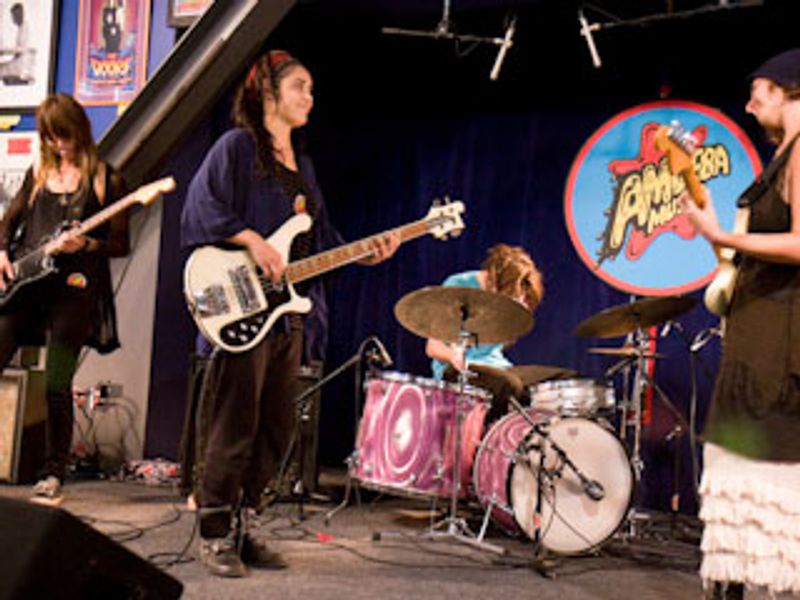 Warpaint live at Amoeba
Friday: Warpaint are at the Glass House with Cate Le Bon ($20, 7 p.m.)
Saturday: Culture Collide in Echo Park with The Raveonettes, Rhye, Liars and many more ($30, all afternoon/evening Thurs.-Sat.)
Sunday: Primal Scream at the Fonda ($32, tickets are on available at Amoeba Hollywood)
Become a fan of PST!