Michael Vidal – "Dreams (Come Back to Me)" – Free Download
The members of L.A. darkwave rockers Abe Vigoda have recently been focusing on other projects, including dream pop bands Roses and Dunes. Now lead singer Michael Vidal has unveiled a gorgeous collection of songs called Dream Center. "Dreams (Come Back to Me)" hums along on muted guitar and Vidal's swooning baritone, sounding a bit like a Christine McVie-led Fleetwood Mac track until the groove goes full-tilt with a gleaming guitar rush at the end. Download it free from Amoeba.
Tropic of Cancer – "Plant Lilies at My Head" video
The new video from hits you with perfectly treated, provocative Super 8 imagery right in tune to this song's graceful, slow-burning movements. It looks and sounds like something out of a giallo movie—or at least the instagrammy nature of it makes it feel like something inspired by those films, like Beyond the Black Rainbow or Berberian Sound Studio. "Plant Lilies at My Head" is a terrific counterpart to the dancier tracks on Restless Idylls like "More Alone." Preorder the album on CD or LP, from Blackest Ever Black, or pick it up Sept. 30!
Cold Beat – "Worms"
I fell hard last year for S.F.'s Grass Widow and their terrific album Internal Logic, which spun eerie harmonies and Stereolab-style vocal interplay around direct surf-rock riffs. Grass Widow member Hannah Lew now has a solo project called Cold Beat, which sounds a bit like Grass Widow if they ditched the vocal tricks and went heavier with the guitars but kept the offbeat nature of the project intact. "Worms" is coming out b/w "Year 5772" on an EP due Nov. 5 from Crime on the Moon.
Turbo Lightning – "Faster Than Light"
Former Mae Shi member Jeff Byron has a new project called Turbo Lightning, a power-pop act featuring the sugary vocals of Dana Poblete, also of Batwings Catwings. This first taste of their upcoming self-titled EP has the same kind of youthful energy that made the Mae Shi so much fun, with the kind of fizzy, distorted guitars that have been in short order as of late. They're like what a lot of '90s alt-rock bands sound like in your memory—as in, better. Hear it on Soundcloud. Faster Than Light is due Nov. 15.
Wymond Miles – "Night Drives"
An analog synth jam called "Night Drives" might sound like the last thing anyone eneds, but Fresh & Onlys guitarist Wymond Miles makes it work with his weary, Robert Smithian/David Bowiean baritone. He builds to a beautifully ascendant melody that cuts through the synth wash and silences it, only to come back again. Full of interesting movements, "Night Drives" has a lot more going on than what is initially heard. Miles is set to release his second LP on Sacred Bones, Cut Yourself Free, Oct. 15.
Spaceships – "Little" video
L.A. lo-fi darlings Spaceships have gotten great mileage out of their Cool Breeze Over the Mountains LP, even getting their latest video for "Little" premiered on MTV Hive. Just watching it with those blocky white letters makes me think I'm watching 120 Minutes, as does the awesome alt-rock vibe of the song itself. And now I want pizza.
Shows This Weekend: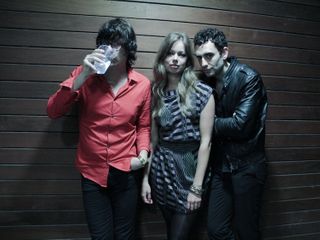 Friday: What? Zola Jesus is at Hollywood Forever tomorrow? Where have I been on this? It's sold out though. Luckily there's plenty of other awesomeness—The Fresh & Onlys are at the Center for the Arts in Eagle Rock with Woods ($15, 8 p.m.), and jangle-rockers Dream Boys are at the Satellite with Army Navy and Charlie Clark for Buzzbands.la's five-year anniversary show ($8, 9 p.m.)
Saturday: Also I had no idea Light Asylum are playing with Youth Code at Los Globos Saturday. That's $13 for lots of fucking awesome.
Sunday: I'll be at Chromatics, The xx and Austra at the Hollywood Bowl in case anyone's wondering! It's at 7 p.m., ticket prices vary, check here.
Become a fan of PST!