Best Coast's Fade Away Up for Preorder
L.A.'s Best Coast are following up last year's excellent The Only Place with a mini album called Fade Away. The seven-song release features two songs she released on Record Store Day—"Fear of My Identity" and "Who Have I Become"—plus five more new ones. It'll be out Oct 22 on frontwoman Bethany Cosentino's new label, Jewel City. Read my interview with Best Coast here.
Preorder Best Coast's Fade Away on CD or LP! Stream "Fear of My Identity" below, and pick up the EP track "I Don't Know How" from Amoeba now!
Crystal Antlers – "Rattlesnake" video
We're already loving the new Crystal Antlers song "Rattlesnake," and now its video is here, which matches the '90s vibe of the song with some buzz-bin visuals. Beavis & Butthead would've loved this. Their latest album, Nothing is Real, is due Oct. 15 on Innovative Leisure.
The Herms – "Power Joystick"
Berkeley's The Herms have had their early demos corralled for a release on Castle Face—Drop Out Vol. 1, due Sept. 24. This isn't a fan-only release for a cult band; it's the real, raw deal, likely the best way to hear this band, judging from the raw freakout "Power Joystick." Dig that dirty little organ solo. Listen via Filter.
Upset – "Oxfords and Wingtips"
Ali Koehler, formerly the drummer of Vivian Girls and then Best Coast, has a new band called Upset, which also features Jennifer Prince on guitar, who used to play with La Sera, as well as Patty Schemel, who…come on, you know who she is (Hole, Hit So Hard). Their first single, "Oxfords and Wingtips," is a great rock 'n' roller. Koehler's cooing voice reminds me of bands like Heavenly and Dressy Bessy, while the rhythm section and riffs are gritty and mean. She's Gone is due Oct. 29 on Don Giovanni, and you can download the single now from Amoeba.
Cass McCombs – "There Can Only Be One"
California native Cass McCombs has a new album due soon, following 2011's terrific Humor Risk. "There Can Only Be One" rolls gently along a simple arrangement, with some bongos, flanged guitars and a walking bassline. It's a perfect porchside love song, delivered with just the right combination of sincerity and coolness. Big Wheel and Others is due Oct. 15 on Domino.
The Internet - "Dont'cha" video


Odd Future affiliates The Internet's first album, Purple Naked Ladies, was a great little nocturnal laptop R&B project. Now Syd the Kid and Matt Martians have expanded it into a full-band thing for their second album, debuting a lush soul sound with "Dont'cha." It's kinda like a chilled out "Rock With You." Feel Good is due Sept. 24 on Odd Future Records.
FRONDS - "Crush" video
Lots of bands are referred to as dream pop, but the Bay Area's FRONDS really fit that bill on both sides of the equation—on one hand, "Crush" has a classic, psychedelic pop feel, but it's also hazy and somewhat unpredictable, going from cuddly to creepy somewhere midway. Maybe that's just how my dreams are! This video makes me a bit uncomfortable; I think that's sort of the point. Dreams do that, too. FRONDS' self-titled debut is due Oct. 8 on Do Not Disturb, an imprint of Castle Face, home to many great Bay Area garage bands. Speaking of which, FRONDS' ever-changing lineup consists of members of other local acts, fronted by Dylan Tidyman-Jones from the recently defunct The Mallard and featuring members who have played with such artists as Mikal Cronin and Wyland Miles.
Meanest Man Contest - "In the Dark"

This kind of emotional lap-pop that was pretty prevalent in the early 2000s is a great thing to discover again. Meanest Man Contest had an album during that time and are back, and judging by "In the Dark," they haven't lost any of their lustre. It's also got a kind of hip-hop thing going as well as a
Sarah Records
vibe—a unique combination. I love how the singer asks "do you ever think of me in the dark," hanging on that last word and making it sound as scary and kind of pathetic as it needs to.
Everything Worth Mentioning
is due Oct. 29 on
Gold Robot
.


Shows This Weekend: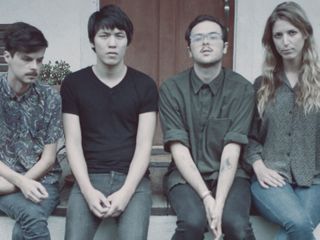 Friday: Bleeding Rainbow, Spaceships
and
Cinderella Motel
at the
Bootleg
($10, 8 p.m.)
Become a fan of PST on Facebook!
Relevant Tags
Weekly Roundup
(139),
La Music
(74),
Sf Music
(66),
Local Music
(10),
Best Coast
(41),
Crystal Antlers
(7),
The Herms
(1),
Upset
(8),
Cass Mccombs
(16),
The Internet
(12),
Fronds
(2),
Meanest Man Contest
(1)